SimpleTech on Monday announced it's shipping its Pro Drive and Duo Pro Drive. The external hard drives come in different storage capacities up to 3 terabytes (TB), with prices starting at $279.99.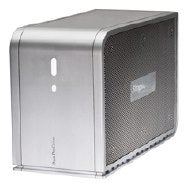 Both drive incorporate a quad interface backplane — external Serial ATA (eSATA), FireWire 800, FireWire 400 and USB 2.0. The drive design is stackable, and it ships with a security lock to help prevent someone from walking off with it.
The Pro Drive is a single drive model available in 500GB, 750GB, 1TB configurations. A 1.5TB configuration is expected to be released in the middle of the fourth quarter a price to be announced.
The Pro Duo uses two drive mechanisms inside configured either in a RAID Level 0 or Level 1 array. It features a maximum capacity of 3 terabytes (using two 1.5TB mechanisms striped together) — like the 1.5TB Pro Drive, the 3TB model is coming in the middle of Q4 2008. Pricing ranges from $279.99 for the 1TB model to $549.99 for the 2TB model.
Fabrik Ultimate Backup is also available for these drives. It's a Web-based service that enables you to back up important data online. 2GB is provided free — if your storage needs exceed 2GB, you can upgrade to unlimited capacity for $4.95 per month.