At a Glance
Expert's Rating
Pros
Fast, FireWire bus-powered
Our Verdict
The FreeAgent Go for Mac is an external hard drive built by storage giant Seagate that promises fast FireWire 800 transfer speeds, spacious storage, and a stylish (if bulky) white and aluminum design meant to compliment the Mac.
The FreeAgent Go comes formatted for the Mac, is Time Machine-ready right out of the box, and is available at 250GB ($160) and 320GB ($190) capacities. We tested the 250GB FreeAgent Go Drive equipped with FireWire 800 and USB 2.0; while it lacks a FireWire 400 port, the FreeAgent Go does include an adapter cable for connecting the drive's FireWire 800 port to a FireWire 400 connector on your Mac.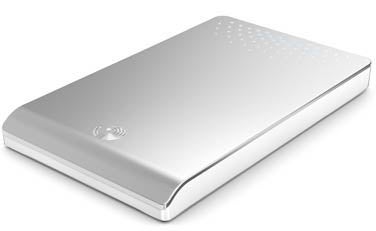 Once you get through the unwieldy packaging, it's easy to pop the drive into its little dock station for use. The dock plugs into the computer via a FireWire 800 cable and functions much like an iPod or digital camera dock would. Alternatively, you can bypass the dock and plug in the drive directly to your computer using the USB 2.0, FireWire 800, or FireWire 800 to 400 cables.
We tested the drive using FireWire 800, USB 2.0, and FireWire 400 on a MacPro. In our Copy 1GB test, the drive took 41 seconds on average with the FireWire 800 connection, 51 seconds for the FireWire 400 and 45 seconds with the USB 2.0. Compared with other drives we've tested, the times are only slightly slower than desktop drives but marginally faster than competing portable drives.
The duplicate test results were even more impressive. It only took 50 seconds to duplicate a 1GB file with the FireWire 800; 1 minute, 16 sixteen seconds with the FireWire 400; and 1 minute, 31 seconds with the USB 2.0 connection. These times, along with the low memory Photoshop test results (FireWire 800, 1 minute, 38 seconds; FireWire 400, 1 minute and 45 seconds; and USB 2.0, 1 minute, 48 seconds) are not only faster than most portable drives we've seen, but comparable to many larger desktop drives.
Timed trials
| | |
| --- | --- |
| Copy 1GB file to USB 2.0 | 0:51 |
| Copy 1GB file to FireWire 400 | 0:45 |
| Copy 1GB file to FireWire 800 | 0:41 |
| Duplicate 1GB file via USB 2.0 | 1:31 |
| Duplicate 1GB file via FireWire 400 | 1:16 |
| Duplicate 1GB file via FireWire 800 | 0:50 |
| Low-memory Photoshop: USB 2.0 | 1:48 |
| Low-memory Photoshop: FireWire 400 | 1:45 |
| Low-memory Photoshop: FireWire 800 | 1:38 |
Time= Minutes: Seconds
Macworld's buying advice
The FreeAgent Go's compact size (it's small enough to take with you but a little too bulky for a pocket) and wedge-shaped design make it easy to write off as a stylish but substance-free toy. But it offers satisfying speed and plenty of transfer options with its multiple ports and adapters. I personally didn't find the dock necessary, but some users will be thankful it helps reduce the amount of clutter on your desk. It's also really easy to throw photos, music, or other files onto this little drive and then pack it up to go. Maybe style and substance can have a happy marriage after all.