Editor's Note: This story is reprinted from Computerworld. For more Mac coverage, visit Computerworld's Macintosh Knowledge Center. The original Computerworld story was corrected on 9/30 at 4 p.m. PT to accurately reflect the fact that this program is a Web app, not an App Store app as was originally reported. The download in question is a download from IBM's web site, not from Apple's app store. Macworld regrets propagating this error.
A version of Lotus Notes from IBM is at last available for Apple's iPhone as a Web app that's enabled via a software download from IBM's web site, allowing users to check their Notes e-mail and view their calendar and contacts, IBM announced.
The iNotes Ultralite download comes with IBM's Lotus Notes software 8.0.2, which is designed to offer better performance than earlier versions and uses 20 percent less memory.
Once the download is completed, IBM iNotes can be accessed via the iPhone's Safari browser . Users can also add the Lotus Mobile Connect VPN for better security.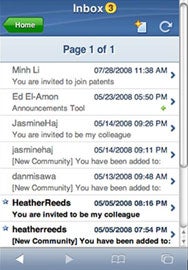 While Notes is still behind Exchange in popularity with business e-mail users, IBM claimed strong sales of Notes and Domino over 15 consecutive quarters — and a 21 percent increase in sales in the second quarter, compared with the same quarter a year ago.
About 140 million licensed users rely on Notes worldwide, IBM said, with more than half of the world's 100 largest corporations on the platform.
Well before the iPhone 3G went on sale in July, Apple described it as business-ready, primarily because of the addition of Exchange support .
In March, IBM officials said they were working on Notes support for the iPhone . That same month, Sybase iAnywhere said it was adding support for Notes from the iPhone through its Information Anywhere Suite.