Western Digital (WD) on Tuesday introduced the ShareSpace network storage system. It provides up to 4 terabytes (TB) of storage capacity and multiple RAID configurations; prices start at $699.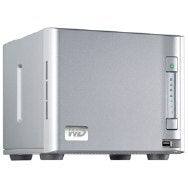 The ShareSpace sports four drive Serial ATA (SATA) bays and a Gigabit Ethernet interface. The drives can be configured in mirrored or striped arrays; if you opt for the four-drive configuration, you can also configure it in a RAID 5 array for maximum performance and redundancy.
The drive includes built-in iTunes server support, so you can use it to share music across a network to Macs or PCs running iTunes. Remote Web access lets you access the drive from anywhere on the Internet. It also includes Microsoft Active Directory service support, along with a built-in FTP server. A download manager lets you schedule downloads through FTP and HTTP.
The drive also features three USB 2.0 ports and the ability to plug a drive into the front-mounted USB port to automatically transfer data on the drive to the ShareSpace system.
The ShareSpace comes in a 2TB configuration for $699 and a 4TB configuration for $999.