Namco announced Tuesday that it has released Pole Position: Remix for the iPod touch and iPhone. The game costs $9.99 and is available for purchase and download from the App Store.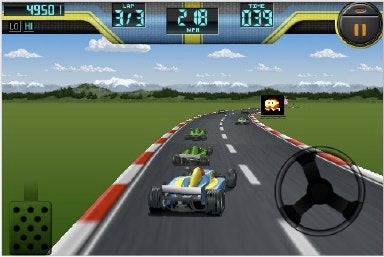 Pole Position: Remix is a revisitation of the classic 1980's arcade game series that puts you behind the wheel of an open-wheel Formula One-style race car as you hit different tracks and try to avoid other drivers and pitfalls on each course. Namco has already released a version of the game for the iPod, which costs $4.99.
Namco has reworked Pole Position: Remix for the iPhone and iPod touch with support for the multitouch interface and accelerometer; you can touch the screen to steer the wheel, or you can tilt the device to steer instead. You're awarded points for the distance you travel and for each car you pass. You can unlock additional cars, billboards, tracks and graphical themes as you race.
Pole Position: Remix has actually been available from the App Store since mid-month, but Namco only announced its availability on Tuesday.
Pole Position: Remix runs on any iPhone or iPod touch running iPhone 2.0 software or later.