Computer case and accessory maker Targus on Tuesday introduced its first line of notebook accessories designed specifically for Mac notebook users. Products include a wireless mouse, Bluetooth-equipped laser mouse, Bluetooth Presenter, USB Hub, Chill Mat, File Share Cable and Privacy Screen.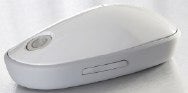 The $49.99 Wireless Mouse for Mac uses an RF-based 2.4GHz micro USB receiver. It sports a 1200 dot per inch (DPI) optical sensor and measures 4.64 x 2.51 x 1.45 inches, and weighs 4.7 ounces.
The $69.99 Bluetooth Laser Mouse supports the MacBook and MacBook Pro's built-in Bluetooth connectivity, so no receiver is necessary. It sports 1200 DPI laser technology, and measures 4.64 x 2.51 x 1.45 inches, weighing 4.4 ounces.
The Bluetooth Presenter works both as a presenter remote and as a cursor controller, using Bluetooth instead of RF. It can be used to remotely control your Keynote or PowerPoint presentation, and you can switch it to Cursor mode to use it like a mouse, so you can control other apps. It has two programmable buttons that let you customize its operation. It measures 5.1 x 1.65 x .98 inches and weighs 3.7 ounces. The price is $79.99.
The USB hub for Mac is $29.99. Designed for portability, the oval hub features four USB 2.0 ports and a wrap-around cable design that lets you protect the hub from debris or damage.
The Chill Mat for Mac has two USB-powered fans that are placed for optimal laptop cooling. You can set your laptop at an angle, and a soft mesh bottom provides air flow to help reduce the likelihood of overheating. It can accommodate up to 17-inch MacBook Pros. It costs $49.99.
The File Share Cable for Mac is a USB cable that has built-in software that enables you to drag and drop files between Macs or a Mac and a PC. It costs $49.99.
The Privacy Screen for Mac narrows your laptop's viewing angle using "microscopic vertical blinds," to help keep casual viewers sitting on either side of you from seeing what's on your screen. It comes with double-sided adhesive for semi-permanent mounting or transparent tubes that let it slide on and off. The Privacy Screen for Mac also incorporates an anti-glare filter. It comes in three sizes, 13, 15 and 17-inch, for $49.99, $59.99 and $79.99 respectively.