Epson America on Tuesday launched three new EX multimedia digital projector models, the EX70, EX50 and EX 30. They're priced at $799, $649 and $549 respectively.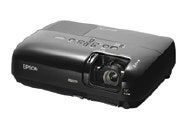 Each of the three models is aimed at small business, home and mobile professionals with modest digital projector needs. They each feature a 2000:1 contrast ratio and use Epson's 3LCD 3-chip optical engine. Other features common to the three new projectors include direct power on and off (operated from a wall switch), Epson E-TORL energy efficiency and more.
The EX70 features native WXGA (wide XGA, 1200 x 800 pixel) widescreen support, USB plug-and-play video (for thumbdrives equipped with compatible files), standard VGA support and HDMI connectivity.
The EX50 supports XGA (1024 x 768 pixel) support in a standard 4:3 aspect ratio, while the EX30 features SVGA (800 x 600 pixel) support.
Both the EX70 and EX50 feature automatic keystone correction and 1.2x digital zoom. An AV mute slide feature instantly turns off the sound and images when the lens cover is closed. And while the EX30 and EX50 don't have HDMI, they support component video input using an included VGA-to-component adapter.
The three new projectors can also be password-protected and feature a Kensington lock bar to protect against theft.