Instapaper is a fabulous application for the iPhone or iPod touch—truly first rate. As one who reads a lot online and off, I've quickly come to appreciate Instapaper as one of my favorite apps. It's so easy to use, in fact, it's tough to resist saving articles for later as just for excuse to whip out the phone and read something. Drives my wife and kids crazy.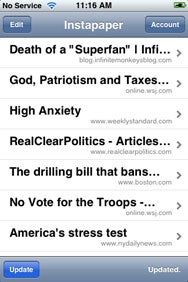 Instapaper is available in two versions. Instapaper Pro is $10, and Instapaper Free is, well, free. Both offer the same killer feature: the ability to download stories to the iPhone or iPod touch and read them anytime, anywhere, with or without a Wi-Fi connection or a cell phone signal.
Instapaper is among the easiest-to-use iPhone apps I've seen. First, sign up for an account at Instapaper's Web site. This takes all of two minutes. Then you simply add a "Read Later" bookmarklet to your Web browser and click it anytime you want to read an article later. (Note: Take care to save the one-page or print screen view of the article you want to read; if you happen to save the first page of an article and you want to read it offline, you will only be able to read the page you saved.) Then when you launch the Instapaper app, simply tap the update button and the stories you saved will download on to the phone.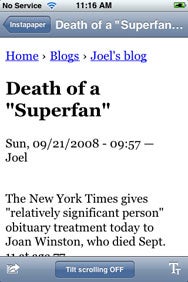 The question, then, is what makes the $10 version of the app a good buy? Readability and convenience, mostly.
Instapaper Pro features a nifty tilt screen feature that lets you scroll text without touching the screen. If the tilt feature proves distracting, not too worry: You can turn it on and off with the touch of a button. Instapaper Pro will also mark your place so that if you need to click away, you will return to the exact spot in the text where you left off. The Pro version also displays customized fonts and text sizes, and gives you the option of black text on a plain white background or white text on black. You can also open articles in Safari.
Although every one of those exclusive features adds value to Instapaper Pro, their absence does not detract from Instapaper Free. The interface is still a snap to use on the free version. The stories remain highly legible.
Instapaper isn't perfect, but then nothing ever is. Occasionally, a page will not translate to text and so cannot be read offline. But if you're like me, you will have 26 other articles in your queue to read anyway. Otherwise, Instapaper is one of the more bug-free apps I've encountered.
I don't want to sound too harsh about Instapaper Pro versus its free counterpart. I use and enjoy Instapaper Pro. And, to be fair, the developer encourages users to try the free version before making the investment plunking down 10 bucks.
Bottom line: It's a question of value, and a judgment call. Instapaper Free is a very good, low-frills reader. Instapaper Pro is a first-class reader with gewgaws and gizmos of enormous convenience but debatable utility. Users will be happy, either way.
Instapaper is compatible with any iPhone or iPod touch running the iPhone 2.x software update.
[Ben Boychuk is a writer and columnist in Rialto, Calif.]