At long last, residents of the Commonwealth of Puerto Rico and the U.S. Virgin Islands will join their compatriots on the U.S. mainland by getting the opportunity to spend their hard-earned money on an expensive cell phone.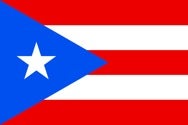 AT&T has announced that they will be offering the iPhone for sale in Puerto Rico and the U.S. Virgin Islands as of October 17th. As in the U.S., the iPhone will run $199 for an 8GB model and $299 for a 16GB model for eligible buyers, namely those new to AT&T and current customers who are eligible for an upgrade at the time of purchase. Those cannot take advantage of the upgrade price will have to pay $399 for the 8GB version and $499 for the 16GB version. There's also an $18 uprade fee for current AT&T customers and a $36 activation fee for new customers.
The iPhone will require a two-year contract to AT&T; customers coming from other providers will be able to port their number over as long as they have the requisite information. AT&T's iPhone web page collects useful information for customers so that potential customers can be prepared when they come to the store.
With Puerto Rico and the Virgin Islands taken care of, only one question lingers: what about Guam, people?