We know a lot about the iPhone, but here's one thing we don't know: how do you feel about your iPhone? It's a hard thing to measure, to be sure, but our good friend Harry McCracken—former Editor in Chief of our sister publication PCWorld—has taken a shot at it on his new blog, Technologizer.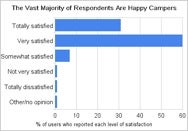 Over the past weekend, Harry ran a survey of iPhone users to see how satisfied they are with their device. The survey posed questions on everything from general happiness levels to specific problems that users had encountered, with a couple of queries about other aspects of the phone, such as the App Store, thrown in as well.
The results are in and while it's hardly a scientific survey, as Harry himself notes—84 percent of respondents, for example, were Mac users and over half were MobileMe subscribers—it's still an interesting look into the minds of iPhone owners. Or at least, those iPhone owners that read Daring Fireball, as the popular Mac blog referred a significant number of the respondents.
Among the most fascinating statistics that Harry collected were that the vast majority of respondents considered themselves either very or totally satisfied with the iPhone, with most rating the iPhone a good or excellent value. The App Store garnered plenty of attention as well: 75 percent of those questioned had downloaded ten or more applications from the store, and 81 percent rated the store either excellent or good, though many of them were less enthusiastic about Apple's rejection of certain applications from the store, with roughly two-thirds saying that it was, at best, a bad decision.
All users surveyed had problems, mostly with crashes and freezes, though many had other issues as well, such as bad coverage and slow Internet speeds. Cut-and-paste topped the list of features that iPhone users still wanted to see, followed by a better camera and the ability to tether the phone and use it as a modem for the computer (the province of the late NetShare).
Harry's compiled plenty more interesting stats from the answers that he got, so check out the full results at Technologizer. Though remember, this doesn't necessarily give us a ton of insight into the average Joe iPhone user—of whom there are several million and counting.