LaCie rolled out a new line of LCD monitors Tuesday aimed at creative professionals who put a premium on color accuracy. The 700 series of displays comes in 20-, 24-, and 30-inch models.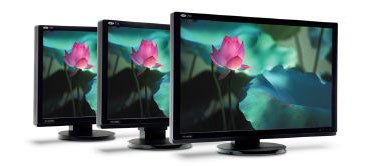 The 700 series features an RGB-LED backlight which, according to LaCie, allows the monitors to produce purer red, green, and blue primaries for a larger range of vibrant colors than are available in other LCD offerings. The monitors offer ultra-wide gamuts of up to 123 percent of Adobe RGB, which LaCie says will minimize the need gamut mapping and allow users to move easily from image capture to print.
The 20-inch LaCie 720 features a 4:3 aspect ratio; it costs $2,040. The 24-inch LaCie 724 and 30-inch LaCie 730 both feature a 16:10 wide-screen format and cost $2,900 and $5,850, respectively. All three LCDs come with an integrated USB 2.0 hub for hooking up peripherals and a LaCie easyHood that prevents ambient light from interfering with color-sensitive applications.
The 700 series displays come bundled with LaCie's blue eye pro Proof Edition calibration software package. The monitors also embed ColorKeeper, a backlight stabilizer technology.
The 720, 724, and 730 displays are available from LaCie immediately.
Updated at 12:06 p.m. PT on October 1 to correct erroneous pricing information supplied by the vendor.