A specially licensed version of Tapulous' hit iPhone and iPod touch game Tap Tap Revenge will be released this month, and will feature the music of Nine Inch Nails. It will cost $4.99.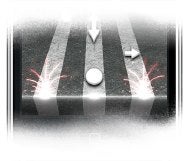 Tap Tap Revenge is a rhythm music game akin to Guitar Hero, designed for the iPod touch and iPhone — you match the beat of the music by tapping rhythms in time with what's happening on the screen. The full version of Tap Tap Revenge is totally free, and features a wide assortment of music tracks available for download.
Trent Reznor, the man behind Nine Inch Nails — also known to fans as NiN — recently posted on his blog that a special Nine Inch Nails version of Tap Tap Revenge was coming soon. The news was soon confirmed by Tap Tap Revenge's developers.
The NiN-branded version of Tap Tap Revenge will feature 16 selected tracks from NiN's recently-released albums The Slip and Ghosts I-IV, many of them specially edited or mixed for the game. The game will also feature a special NiN-inspired look and feel, according to Tapulous.
Reznor made headlines when he announced that The Slip and Ghosts I-IV would be released entirely independently of music labels. He's offered the albums for download from the NiN Web site and also through independent online music retailers, Amazon.com and iTunes.