Aspyr Media on Wednesday revealed plans to publish Guitar Hero: Aerosmith. It's expected to be released this month and will cost $39.99.
Guitar Hero III: Legends of Rock is the enormously popular music rhythm game in which you assume the role of the guitar player for an up-and-coming rock band. You play well-known rock and roll hits using a USB-based guitar-shaped controller, tapping out colored fret buttons and strumming a strum bar to match the action on the screen. The game features dozens of classic rock, modern rock, punk and alternative hits.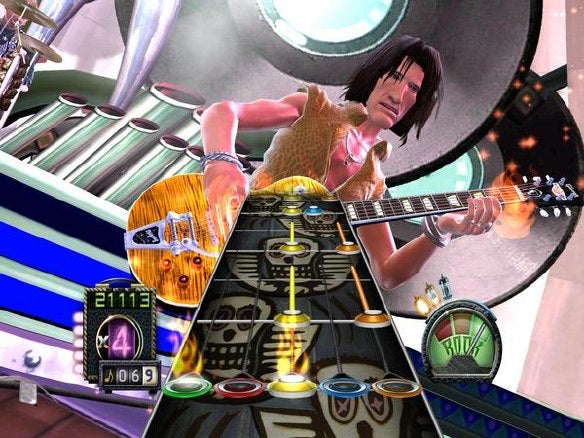 Guitar Hero: Aerosmith is a standalone game that doesn't require Guitar Hero III: Legends of Rock. It features more than 40 songs, including 25 master tracks from the legendary Boston rock band. You can play as virtual versions of Joe Perry, Brad Whitford or Tom Hamilton, along with Steven Tyler and Joey Kramer, replaying historical moments during the band's career. Other songs included with the Aerosmith expansion pack include Lenny Kravitz, Run DMC and Stone Temple Pilots.
While the game doesn't require Guitar Hero III: Legends of Rock, it is, at first, being offered as a software-only release, so ostensibly people who have already bought Guitar Hero III will be able to play using their controllers. Later this month, Aspyr plans to release a full bundle that combines the original Guitar Hero III: Legends of Rock game, the Aerosmith game and one USB guitar, for $79.99.
System requirements call for Mac OS X 10.4.11 or later, Intel Core 2 Duo 2GHz or faster, 1GB RAM, 7.1 GB hard disk space plus 1GB swap file, ATI Radeon X1600 or Nvidia Geforce 7300 or better 3D graphics with 128MB VRAM and DVD-ROM.