Virtual Programming has released a Macintosh version of FlatOut 2, the high-octane racing and destruction game developed by Bugbear Entertainment. It costs $39.95 and is available for online purchase and download now from Deliver2Mac.com.
FlatOut2 puts you behind the wheel of a variety of different race cars as you take to courses in cities, in industrial parks, out in the country and elsewhere, competing in a no holds barred contest for first place.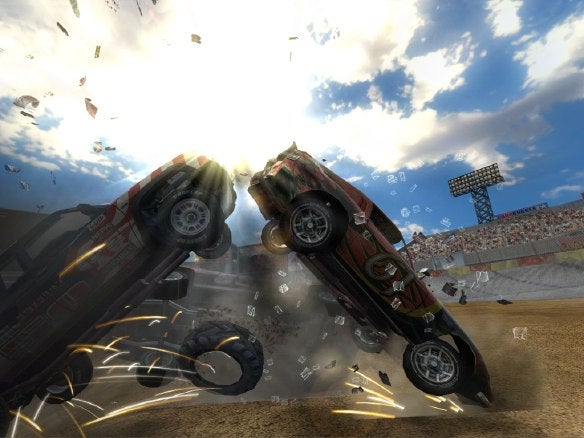 Crossing the finish line first is only one opportunity you have to come out on top, because FlatOut 2 features thousands of destructible objects and 40 deformable pieces on each car model, so you can smash and destroy your opponents and your surroundings all you want.
As time passes you'll develop fierce rivalries with computer-controlled opponents who will stop at nothing to get you off the track; you can slam them into walls and other objects, steal leads using nitro boosts and shortcuts and more. The game also features realistic "rag doll" physics and a series of mini-games that leverage this capability. A dozen different events will enable you to launch your own driver out of the car like a bowling ball, lawn dart and more.
A Championship Mode has you racing for cash and glory, and unlockable bonus items are available if you do well. You can access a variety of car types as you progress — muscle cars, sports cars, pickup trucks and compacts — across sixty track combinations. You can also go online and compete with up to seven other players.
System requirements call for Mac OS X 10.4.11 or later, any Intel CPU, 512 MB RAM, Nvidia GeForce 7300, ATI Radeon X1600 or Intel GMA X3100 or better 3D graphics with 128MB VRAM, 4GB hard disk space, broadband connection for online play.
Updated on October 22, 2008 to correct the minimum OS required to OS X 10.4.11.