Sonnet Technologies has announced the availability of its Aria Extreme N PCI 802.11n wireless PCI card. It costs $99.95.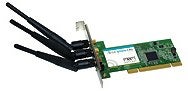 The card enables compatible computers, including many Power Mac models, to be upgraded to work at faster speeds on 802.11n-equipped wireless networks. The Aria Extreme N PCI card can work at up to two and a half times the speed and twice the range than when used on an 802.11g network, according to Sonnet.
The card supports Multiple Input Multiple Output (MIMO), which enables multiple concurrent data stream transmission. It supports WEP, WPA and WPA security protocols as well as AES and TKIP. It works with all AirPort Extreme and AirPort Express base stations, as well as other wireless hubs.
The PCI card works in any PCI or PCI-X slot-equipped Macs, including Power Mac G4s (except for the Cube) and Power Mac G5 with PCI or PCI-X slots. System requirements call for Mac OS X 10.4 or later.