Apple's had issues meeting many of its self-imposed deadlines in the last couple years. Some of the delays, such as Leopard, have been big; others, like the iPhone SDK, somewhat smaller. As we watched the calendar tick over from the end of September to the beginning of October earlier this week, Apple missed yet another of its targets by not releasing its promised push notification system for the iPhone.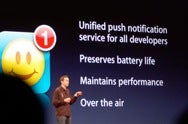 Back in June at the WWDC keynote, Apple SVP of iPhone software Scott Forstall took the stage to discuss Apple's answer to the lack of background applications on the iPhone. Many developers had expressed concern about the limitation which could restrict the usefulness of certain applications, such as instant messenger clients.
Forstall presented a different solution to the problem. Apple would instead roll out a push notification system that apps could use to alert users when remote content had changed. For example, an instant messenger application could display a badge with the number of unread messages, just as Apple's built-in Mail program does. Applications would also be able to use custom alert sounds and pop-up messages (à la SMS messages) to notify users.
According to Forstall, the notification system would consume less battery life and offer better performance than allowing applications to run in the background. All notifications would run over one persistent connection, and users wouldn't have to be concerned about dealing with hidden applications running amok.
The notification system, however, wouldn't be included in the 2.0 iPhone software that Apple also showed off at the keynote. Instead, Apple said that it would be available as of September. Of course, the ninth month has come and gone with no sign of the feature, despite Apple shipping a major iPhone OS update during the same period.
Indeed, reports from some quarters indicate that Apple may have removed the notification system from its beta iPhone OS as early as August, before the 2.1 update was rolled out. Apple did not respond to a request for comment on this story.
If the system was indeed pulled from the beta, it suggests a couple of potential scenarios. With the number of complaints and stability issues that users were experiencing with the 2.0 software, Apple may have wanted to focus on making sure that those problems were resolved in 2.1. Rolling out a brand new feature, especially one as potentially involved as push notifications, could have taken needed resources away from that task.
Another possibility is that after the birthing troubles Apple had with the MobileMe, App Store, and iPhone 3G launches, the company may have decided to spend more time making sure the notification system worked as advertised before rolling it out to iPhone users at large.
Of course, with the revised NDA still covering unreleased software, the status of the push notification system will remain as confidential as Coke's secret formula until they decide to let us in on the secret.