"Big" doesn't quite cut it when it comes to describing the size and scope of Adobe's Creative Suite 4 updates. With CS4, Adobe is updating its entire roster of high-end applications for print, Web, and video pros—13 apps in all, not to mention 14 integrated technologies and seven services. It's a massive undertaking on Adobe's part—and chronicling all these changes is almost as demanding.
We've offered previews of the CS4 versions of Photoshop, Illustrator, InDesign, After Effects, and Premiere—and we've only just scratched the surface.
Below, you'll find brief overviews of seven more pieces of Adobe's CS4 puzzle.
Our reviewers highlight the major additions and enhancements in each app, as they prepare to evaluate the final releases of Adobe's CS4 offerings when those programs begin shipping later this month.
Flash: Radical revision to animation app
Flash CS4 features a radically revised animation environment. The stage—the application's central workspace—has been moved to the top of the workspace, while the previously dominant timeline is tucked away beneath. This rearrangement symbolizes and facilitates the real radical change in Flash CS4: a fundamental reconceptualization of the animation process.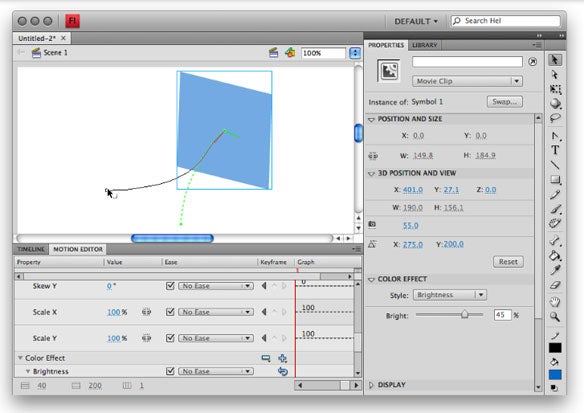 Transcended (though still accessible) are timelines and keyframes. Instead, as motion and shape transformation are applied, objects automatically convert to and are managed as movie clips. Within these movie clips, the motion paths that control animation now function as Illustrator-style vector paths, editable with Illustrator style Pen tools. (The dynamic synergy between Illustrator and Flash has been further enhanced with Flash CS4's ability to import Illustrator's multiple artboards.)
The new, impressive, and almost overwhelming Motion Editor panel feels (and functions) like a video editor. Users of After Effects will find familiar looking features for controlling motion, rotation, skewing, and effects.
Between the restructuring of animation paths and Motion Editor-centered animation controls, Flash CS4 is whole new world for animators, with features that are both more intuitively cohered to the whole CS4 logic, and more powerful. Other animation enhancements include the Bone tool that applies Inverse Kinetics for powerful control over cartoon-style motion, and limited 3-D simulation.—DAVID KARLINS
Dreamweaver: Integrated with the rest of C4
Dreamweaver CS4 finally feels like part of the Creative Suite. The revamped interface now shares the look and feel of Photoshop, Flash, and Illustrator. In addition, support for Photoshop Smart Objects streamlines the preparation and editing of graphic assets for your Web sites.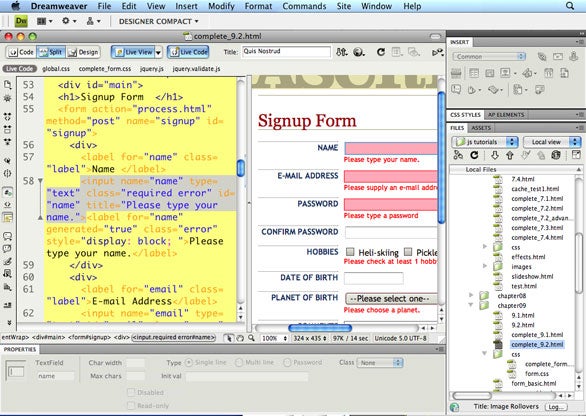 Web professionals, who have often looked down on the WYSIWYG orientation of the program, will find many useful features that make working with HTML, CSS and JavaScript faster. The new related files bar provides a fast way to jump to and edit CSS and JavaScript files used by a Web page, while the code navigator provides a tool for quickly analyzing the styles that affect the current selection. And the new Live View provides a real-time preview based on WebKit that lets you not only see how your page looks in a browser, but also pause a JavaScript program so that you can analyze the resulting HTML code as well as edit the CSS that formats it. In addition, Dreamweaver CS4 now integrates with Subversion—a sophisticated, open-source, file control system—to provide much better way than simply saving
The program also sports useful features for Web designers who aren't completely fluent in JavaScript, CSS or HTML. The property inspector has been revamped making it harder for newbies to create bad CSS, and several improvements to the Spry tools introduced in CS3 make it easy for non-programmers to add tool-tip pop-up windows, form validation for radio buttons and create complex, interactive Web pages using a basic HTML table.
For Web designers burdened by client requests to "change just one little thing" on their Web sites, Adobe is introducing a new Web-based service named "InContext Editing." This service lets busy Web designers unload the mundane details of updating text and images on a Web site onto their clients (or coworkers), who can use just a Web browser to keep their site up to date. Dreamweaver CS4 provides tools for creating Web pages that work with InContext Editing.
You can learn more about the new features in Dreamweaver in this first look at the Dreamweaver CS4 beta, which came out earlier this year.—DAVID SAWYER MCFARLAND
Fireworks: One-step conversion to CSS layouts
New features in Fireworks CS4 provide designers with advanced tools to create Web sites, applications, and interactive designs. Converting a design to a CSS layout-based Web page is a one-step process choosing the Export Menu and selecting CSS and HTML. The CSS options dialog window allows you to choose between writing CSS to an external file or in the html file.
New Slice types provide the option of setting a background image for a Web page and repeating it along the X or Y coordinates. Improvements in the Styles panel include the default styles being subdivided into 13 sections making it easier to locate a style. The Auto Vector Mask command known as Fade Image in previous versions of Fireworks provides real-time previewing of masking as gradient handles are adjusted.
Fireworks CS4 came out in beta form earlier this year. Macworld's first look at the Fireworks beta touched on many of these features as well as the application's revamped interface, Smart Guides, and ability to export clickable prototypes into an interactive PDF.—CYNDY CASHMAN
Contribute: New workflow process highlights modest changes
Contribute CS4, a program that allows Web-unsavvy users to edit Web pages without the possibility of breaking the site, has changed little since the CS3 version. The biggest change is a new workflow process that allows the site administrator to require pages based on a particular site template to go through review and approval before they can be published.
You can now edit pages using Contribute's tools from within Firefox (but not Safari). Time-sensitive pages can now be set to expire, notifying the author that they need refreshing. Better CSS support and tighter integration with Dreamweaver, as well as a cosmetic facelift (gaining the Adobe application look and feel) round out a mediocre upgrade.—TOM NEGRINO
InCopy: Screen-sharing, table-editing support lead additions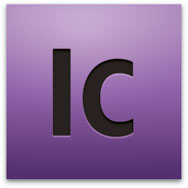 The CS4 upgrade to InCopy, the Adobe InDesign companion software that lets editors and designers work in layouts simultaneously, adds a number of new features, including the ability to share a screen with other users in real time over the Web, and to create hyperlinks and dynamic cross-references within InCopy documents.
The update also expands support for table editing: you can now edit tables directly in Story and Galley views, track those changes, and add notes within table cells. A conditional-text feature makes it possible to publish multiple versions of a document from the same InCopy file, so you can, for instance, create one version for print and a longer version for online publication. And the Links panel now features thumbnail images of files for easier file management.—SALLY ZAHNER
Version Cue: Simplifying the version tracker
Two editions of Creative Suite ago, Adobe introduced a confusing technology called Version Cue that promised to do two things: let you track and manage versions of your files so you could revert to earlier versions if desired, and provide a shared workspace for all participants in a project to work on the files. If the Version Cue feature was enabled, Creative Suite applications had a second set of Open and Save dialog boxes meant to provide a unified experience across Windows and Macintosh, but one that didn't work like the rest of your application's Open and Save dialog boxes.
In Creative Suite 4, that parallel universe of dialog boxes is gone. Version Cue is now much less visible to users of individual CS4 programs. Now, Adobe Bridge is where you manage Version Cue projects, creating virtual servers that appear on the Mac and Windows desktops like any other network drive.
In programs like Photoshop and InDesign, you simply open Version Cue files from those network drives, and the programs understand that you are working in the Version Cue environment. That means the applications' commands to check files in and out become available, and when you save your work by checking the files back in, the programs create a new version of the file, not replace the original.
This simpler approach definitely takes Version Cue out of the way, while keeping its capabilities available when desired. The biggest change is having to switch to Bridge to create projects, manage their file sets, and "promote" older versions over more recent changes—you no longer do such actions in the individual CS4 programs. Administering your virtual servers—the project sets, and the access controls for them—remain essentially the same as in previous versions.—GALEN GRUMAN
Soundbooth: Update fills the gaps from CS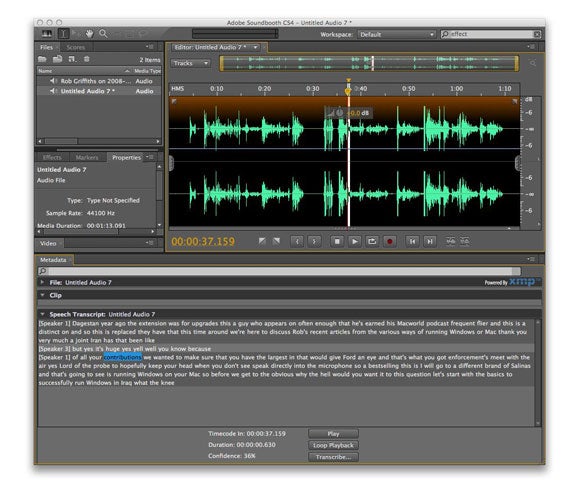 The original Soundbooth, which debuted with Adobe CS3, lacked features audio pros require in an audio editor. Soundbooth CS4 provides some of those features as well as supplies some intriguing new capabilities.
Specifically, the update brings nondestructive, multitrack editing to the program; allows you to add more than one AutoCompose score to a single project; lets you create restore points you can later return to; automatically matches volumes to balance loud and soft sections; and attempts to transcribe spoken passages in a project to text. You can then use that text to navigate through a project by clicking on words in the transcript.
All of these features are covered in greater detail in the first look at the Soundbooth CS4 beta.—CHRISTOPHER BREEN
Suite offerings
Adobe is packaging its CS4 updates into six suites. The $1,399 Design Standard suite features InDesign CS4, Photoshop CS4, Illustrator CS4 and Acrobat 9 Pro, along with new versions of Bridge, Device Central, and Version Cue. The $1,799 Design Premium suite features all of those apps (though it replaces the standard version of Photoshop with Photoshop CS4 Extended) and adds Flash, Dreamweaver, and Fireworks.
Flash, Dreamweaver, Fireworks and Contribute make up the $999 Web Standard suite (which also features Bridge, Device Central and Version Cue). The $1,699 Web Premium suite adds Photoshop Extended, Illustrator, Soundbooth, and Acrobat to the mix.
The $1,699 Production Premium Suite features Adobe's video-editing tools—Premiere, After Effects, Soundbooth, OnLocation, and Encore—along with Photoshop Extended, Illustrator, and Flash. The $2,499 Master Collection features all of Adobe's CS4 updates.
[David Karlins has written a half dozen books on vector graphics. David Sawyer McFarland is the author of Dreamweaver CS3: The Missing Manual (O'Reilly, 2007). Cyndy Cashman teaches Fireworks, Dreamweaver, Flash, Photoshop, and Illustrator at her company, Breakaway Interactive. Longtime Macworld contributor Tom Negrino has written books on Contribute and Dreamweaver. Sally Zahner is Macworld's assistant managing editor. Galen Gruman is a freelance writer in San Francisco and a long-time Macworld contributor on publishing tools. Christopher Breen is a senior editor for Macworld.]