In any economy, comparison-shopping is merely prudent. In a tough economy, it's a must. In an era of $4-a-gallon gas, driving from store-to-store is stupid. In an age of information, there is no shortage of data to sort.
And in the iPhone age, there is Save Benjis to navigate through it all. Or enough of it, anyway, to make it a useful app. And keeping with the spirit of bargain hunting, Save Benjis is free.
I've lost count of the number of times my wife and I have had a conversation like this:
"We should get this," my wife says, eyeballing some household item we could use but don't necessarily need.
"Eh, I dunno," I demur. "It's probably cheaper on the Internet," I say.
"You always say that," she retorts. "And besides, if we don't pick it up now, you know it won't be here when we come back for it."
"I don't think we can really afford it right now, can we?" I say. "Tell you what: Check it online when we get home. We'll order it."
"You'll be sorry," my wife says. And she's right as often as not. Story of my life.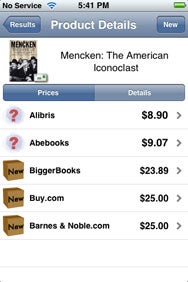 The scenario usually plays out in different ways, all disappointing: The item was a good deal after all; it was a quick sale; the manufacturer has discontinued it; it's impossible to order online, or it's hopelessly backordered; or—my favorite—it's available through an eBay seller at some extortionate price. This happened to my wife and me about a year ago with a bed linen set we wanted that the manufacturer had discontinued.
Save Benjis would have saved us some dough and saved me some grief. The free app provides quick, efficient comparison-shopping online.
Save Benjis searches dozens of retail and auction sites, including eBay, J&R Electronics, Buy.com, and Barnes & Noble for popular categories such as appliances, books, music, movies, computers and electronics, games and toys, even baby supplies. The app lets you e-mail product listings.
And, of course, you can make purchases. However, the ease of buying something through the iPhone is a whole 'nother matter. Save Benjis works best as a price-comparison tool, not as a Web portal.
Save Benjis' basic search allows you to enter keywords or bar code numbers. I was pleasantly surprised to find that Save Benjis let me search book ISDN numbers as well.
The advanced search will let you search product names, manufacturers, bar codes and manufacturer's part numbers. You can also specify product categories, filter by store or item condition, and exclude certain keywords to help narrow searches as much or as little as you choose. Save Benjis also keeps track of your recent searches.
As is often the case with free search tools, they are never quite comprehensive enough and tend to buckle when pushed. The latest update corrected a bug that caused the app to crash when clicking through to certain retailer's Web sites, and users can now scroll down to the video games category. That's all to the good.
But Save Benjis still doesn't perform well with certain product categories—sundries and hardware, for example. With a 4-month-old daughter in the house, we're always on the hunt for deals on diapers, wipes, baby-safe detergent, and the like. Diapers I can get at Costco or Sam's Club. Dreft detergent, which is the only laundry soap that doesn't cause our little girl's skin to break out in a rash, is more of a challenge. The stuff isn't cheap, and it isn't often on sale. Save Benjis was of no help. It's a minor quibble, but users should adjust expectations accordingly.
The worst that could possibly be said about Save Benjis is that it has one of the dumbest names ever conceived in the history of marketing. Save Benjis, as in Benjamin Franklins. Too cute by half. The developers might consider a higher quality name befitting a high-quality app. How about Save Bens?
The application is compatible with any iPhone or iPod touch running the iPhone 2.x software update.
EDITOR'S NOTE: 10/3/2008 – The developer's name has been corrected.
[Ben Boychuk is a writer and columnist in Rialto, Calif.]