At a Glance
Expert's Rating
Pros
Environmentally-friendly
Inexpensive
Cons
Color quality only fair
Slow
Our Verdict
In a market where competition is fierce to create an affordable yet functional printer that can appeal to even the most casual user, HP has upped the ante by introducing the Deskjet D2545, an inexpensive ink-jet printer that's also environmentally friendly.
The D2545 is comprised of 83 percent recycled plastic and costs $45. Considering how wasteful ink cartridges are, it's also reassuring that the D2545's cartridges are also made from recycled plastic resins. Replacing your ink will set you back $30, which is about average for printers like the D2545, but seems expensive when you realize that for another $15 you could just replace the printer itself—but that would sort of defeat the purpose of buying a printer made from mostly recycled material.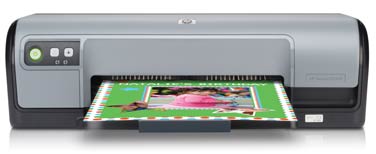 Depending on your perspective, the printer is either streamlined or downright paltry on features. This general purpose ink-jet printer differs from some of the ink-jets we've reviewed recently in that it's designed to print relatively simple office and home documents as opposed to photos. Thus, there are no camera card slots, LCDs or other photo related features and no multifunction features like networking, copying or faxing to add expense to the product. It's just, you know, a printer, and sometimes that's all you want.
HP says the D2545 can produce "laser quality" black text, but our lab tests reveal that its speed and its quality are not of that high standard. The printer's results on the 1-page printout test averaged around 19 seconds, while on the 10-page test it came in at 1 minute and 48 seconds. A jury deemed the D2545's text to be of Good quality; in comparison, we often find that laser printers produce Very Good or Superior quality text. Thus, we found that the D2545's speed and quality were more on par with standard multifunctional ink-jet printers than laser printers.
In our Fine Lines and Gradients test, the D2545 was given a Fair rating by our jury. In our 22MB Photoshop file test, the printer took 4 minutes and 41 seconds on average to complete, while our 4-page PDF printout finished in 2 minutes. The Photoshop print colors were pleasing, and will likely satisfy casual color printer users. Pickier users will notice that images appear overly bright, losing some detail in the highlights.
Timed Trials: Print
| | |
| --- | --- |
| 10-page Word test | 1:48 |
| 1-page Word test | 0:19 |
| 22MB Photoshop image | 4:41 |
| 4-page PDF | 2:01 |
Scale = Minutes: Seconds
Jury Tests: Print
| | |
| --- | --- |
| Graphics: Fine lines and gradients | Fair |
| 22MB Photoshop image quality | Good |
| Text quality | Good |
Scale = Superior, Very Good, Good, Fair, or Poor
Specifications
| | |
| --- | --- |
| Print resolution | 4,800 x 1,200 dpi |
| Connection | USB |
| Paper sizes | Letter, legal, executive, cabinet, mutsugiri, A4, A5, A6, B5, |
| Cost to replace ink | $18/$21 |
| Weight (in pounds) | 6 |
| Dimensions (height x length x width, in inches) | 5 x 17 x 8 |
| Paper capacity | 80 |
| Special features | Energy star, green printer |
Macworld's buying advice
The HP D2545 will probably best serve anyone living in a dorm room, or someone who needs a printer to complement the family computer. Its professed status as an earth-friendlier printer makes it more recommendable than some of its competition. For those willing to spend a bit more, there are sub-$100 printers that offer better print quality, as well as integrated scanners, copiers, card slots, and LCD preview screens. But if you're looking for a cheap, basic printer, this is it. And you can feel good about the purchase because it's environmentally friendly.
[Chris Holt is a Macworld assistant editor.]