By all accounts Apple's App Store, which offers add-on software for the iPhone and iPod touch through iTunes, has been a success. Despite the ongoing low-intensity warfare between Apple and some app developers, new applications continue to appear and sales are brisk. In September, Apple CEO Steve Jobs announced that the App Store had served up more than 100 million apps in its first 60 days, and an earlier Wall Street Journal report quoted Jobs as saying that the store had generated $30 million in sales in its first 30 days of existence. Jobs even mused that the App Store could be a $1 billion market someday.
But despite all that, some users, analysts, and developers are critical of Apple's decision to shoehorn the App store inside of iTunes, using many of the same features that were designed to be used for music, not software.
Mismatched media?
Claremont McKenna College freshman George Posner says he noticed the differences between shopping for music and for iPhone apps right away.
"They do different things," Posner says. Although Posner professes to like the App Store, he says it isn't always his first stop when looking for applications for his new phone. That seems strange, considering the App Store is the only place a user can legally download third-party software. But Posner says he relies instead on other sites, such as Facebook, and word-of-mouth from friends to give him suggestions for apps to buy when he visits the App Store.
"Apple let the App Store get away from them," says Rob Frankel, a Los Angeles-based branding guru. "They did such a great job of building the entire iTunes empire. They thought they could just clone the structure. It doesn't work." Frankel says the store looks and feels like "a bolt on" to the iTunes Music Store, rather than a unique retail outlet selling unique products.
"Music is music and apps are apps," Frankel says. What works for selling the former, he explains, may not work selling the latter. The problem, Frankel argues, is that the App Store isn't doing what the iTunes Music Store did—making the experience of art and technology seamless.
And that's not all.
A tough slog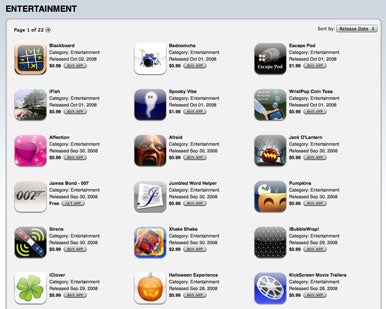 Browsing the App Store isn't easy. There are broad categories of apps, but they're tough to sort through. Go to the App Store, click on "Entertainment" or "Games." Up pop hundreds of products, some $1, some free, some are $10 or more. It's a mish-mash of stuff. Who can make sense of it all?
Then there is the store's search engine. Searching requires having some idea of just what exactly you are searching for. But everything is so new, so different—apart from reading incisive product reviews or old-fashioned word-of-mouth, how are those wide-eyed new users supposed to find what they want and what they need?
Karen Gee, a tech-savvy 40-something Connecticut resident, says she likes the store's convenience and organization. "Both stores are well done," she says. But, like Posner, Gee admits, "I tend to find new apps via iPhone blogs and recommendations from friends."
A more powerful search engine, or an app recommendation feature similar to iTunes' Genius could help direct customers to interesting or useful new software.
No previews
Unlike iTunes, which lets users hear a snippet of the songs they're shopping, all would-be app buyers have to go on are screen shots and user reviews.
"The iTunes store is way better," says Katy Arnn, a 24-year-old student at Claremont Graduate University. "Better organized, more reliable, and you know what you're getting because of the 30-second preview. Not the case with the App Store."
A number of developers offer free or "lite" versions of their apps to entice would-be customers to buy the full version of their software. But that's a business decision by the developers, not App Store policy.
Posner has a novel suggestion: "Since the iPhone and App Store comprise a closed platform, it shouldn't be too hard to build in an effective self-destruct feature for applications after the preview period expires."
Name games
Many apps have similar names, so it's sometimes a challenge for customers to tell what they're getting. The App Store offers several different unit conversion apps, for example, all with variations on the same name—Units, Units Convertor, Converter by UnitConvertr, and Converter by Architechies, to name a few.
Similarity in names often means similarity in function. "There are a lot of apps that do exactly the same thing," complains Arnn. "And most of them seem unnecessary." Arnn says being able to easily compare and contrast similar applications would be a helpful feature in the store.
Pricing predicaments
Another common complaint on several iPhone blogs and boards is that the App Store pricing structure is arbitrary and confusing. iTunes store has straightforward prices: Songs are $1, most albums are $10, TV shows are $2. Not so with the App Store, where apps prices vary widely.
Setting prices for apps is another business decision for developers, not Apple. But as applications proliferate and developers become more competitive, prices are likely to stabilize.
Improvements and updates
Updates are infrequent due to Apple's inscrutable vetting process. When a firmware update throws an app for a loop, a developer can often have a fix ready to upload in a day. But Apple's approval process is much slower. Users and developers alike complain it takes a week or longer for updates to appear, leaving them with malfunctioning apps in the meantime.
Apple has made some helpful course corrections, however.
In late September, Apple changed the App Store so that only users who have actually bought an app may review it. Fewer bogus reviews for users to wade through might improve the buying experience for people looking for clear information.
Developers rejoiced when Apple announced its notorious non-disclosure agreement would no longer apply to shipping apps and the current SDK, only apps and Apple software prior to public release. But customers say they would appreciate more transparency from Apple, as well.
"I wish Apple would include apps like Podcaster," says Karen Gee, referring to an app that Apple because it supposedly duplicated existing iPhone or iTunes features. The move irritated a lot of Apple loyalists like Gee. "Apple risks iPhone users defecting to other phones for the functionality they desire," she says.
Ben Boychuk is a freelance writer and syndicated columnist who lives in southern California. He has reviewed numerous iPhone apps for Macworld.
Updated 10/3, 4:45 PT to clarify what the NDA abatement covers.