In these days of TiVo and other DVRs, many TV watchers are oblivious to when particular shows air. After all, you just tell your DVR which shows you like, and it automatically records everything for watching at your leisure.
Yet I find that I still want to know when my favorite shows are on. Sometimes it's because I want to watch something live with other people. Other times it's because I use TiVo—I need a reminder that there are going to be new episodes waiting for me to watch. Similarly, people who watch their favorite shows via iTunes downloads or on TV-network Web sites want to know when the latest episodes will be available. And, of course, not everyone has a DVR.
One of my favorite Dashboard widgets for Mac OS X is Big Bucket Software's TV Forecast, which lets you input your favorite TV series and then displays when the next episode of each will air. When the iPhone was released, you could get similar functionality on your iPhone using the TV Forecast Web app, but the developer recently released a native iPhone version, TV Forecast 1.0.1, and it's earned a permanent spot on my iPhone.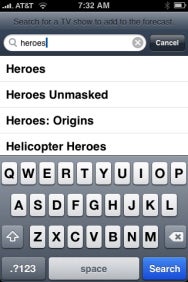 To add a TV show to your "watch list," you tap on the plus (+) symbol and then type in the name of the show. TV Forecast searches the listings at TVRage.com—which means the app requires an Internet connection—and displays any shows that match your search term. Tap on the desired show to track it. (If a show's name is grayed out, that usually means the show is no longer on the air or that only reruns are scheduled; TV Forecast is mainly for current TV series, although some major events—for example, the Super Bowl—are also available.)
After adding your shows, the program's main screen lists the next new episode of each, in chronological order. The list is conveniently divided into time periods: Today, Tomorrow, This Week, Next Week, This Month, and Upcoming. (Shows for which no information on upcoming episodes is available appear at the bottom of the list under a section called To Be Announced.) For each show, you see a small thumbnail image for the show, the name of the show, the name of the upcoming episode, and the date of that episode (assuming the data is available). To the right, in large, easy-to-read type is the number of days until that episode airs. If you're a TV fan, this is a great way to see, at a glance, which of your favorite shows have new episodes coming up—and when each of those episodes will air. TV Forecast updates its information each time you launch the app.
But TV Forecast also provides more info on each show. Tap a show's entry and you'll see information about the next episode: the name; the date, time, and channel; a larger thumbnail image; and, if available, an episode summary. (Tap on the episode name to instead view the season and episode numbers.) By tapping on the left arrow next to the episode name, you can view similar information about the previous episode. Finally, tapping the Action button at the top right lets you read more about the show and episode on TVRage.com, or send yourself an e-mail reminder to watch. (The e-mail reminder also includes a link to the show on the iTunes Store for purchasing past episodes; the developers get a referral credit when you buy episodes using this link.) Given that Apple doesn't currently allow third-party programs to run in the background or provide notifications, this e-mail feature is as close as you can get to actual reminders right now.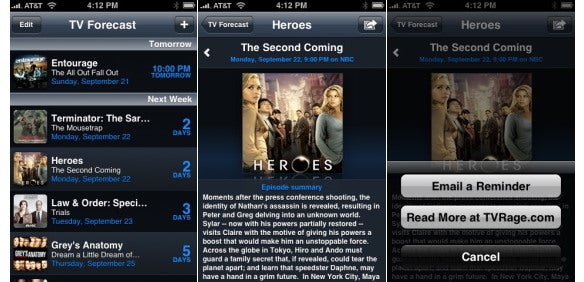 There's also one semi-hidden feature here: while viewing an episode's details screen, if you rotate your iPhone or iPod touch horizontally, TV Forecast switches to "countdown" mode: you see the show's thumbnail, the show and episode names, and a countdown timer displaying the number of days, hours, minutes, and seconds until the episode airs. I suspect few people will use this feature to actually count down the seconds until their favorite show is on, but it's a fun extra.
Overall, TV Forecast's interface is simple and attractive, and the program is really enjoyable to use. One feature I'd love to see is a way to sync your shows between the Dashboard, Web, and iPhone versions. But perhaps the biggest drawback is that, unlike its Dashboard-widget sibling (which uses a different data source for show listings), TV Forecast for iPhone doesn't keep track of where you actually live, so all air times are for the Eastern time zone. For most TV shows, these also happen to be the air times for the Pacific time zone, but if you live in another part of the U.S., you'll have to do a mental adjustment. (The developer is hoping to add true time-zone correction to a future version.) This also means that the countdown feature may be off by an hour or two.
TV Forecast is not a TV guide, and it wasn't designed to be. It's a way to track particular TV shows to see when the next new episode of each will air. And for that task, it's very good—and, surprisingly, fun. For the price of a single HD episode of your favorite show on iTunes, you'll never miss an episode again, and you don't have to wonder whether this week's show is new or a rerun.
TV Forecast is compatible with any iPhone or iPod touch running the iPhone 2.x software update.
[Senior editor Dan Frakes reviews low cost Mac software at the Mac Gems blog.]