Optek Music Systems has announced the release of Fretlight Lesson Player software for the Mac. It's designed to work with Optek's Fretlight learning guitar. Fretlight Lesson Player for Mac and Beginner Lesson Pack 1 for Mac are free; additional Lesson Paks cost $19.95.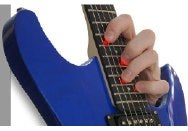 The Fretlight is a full-sized electric or acoustic guitar that plugs into a Mac or PC. The fretboard on the guitar's neck features embedded LEDs; using software included with the guitar, you can learn how to play by seeing where you should place your fingers. The lights show you chords and scales.
Fretlight Lesson Player includes 30 interactive beginner lessons, MIDI play-along tracks and MP3 files to help you learn how to play. Addition lesson and style packs are available; each lesson pack contains more than 70 lessons, MIDI and MP3 files.
Since Fretlight guitars originally were released for the Mac, Optek has released a GarageBand plug-in, M-Player for learning songs and Improviser, to help users practice lead and solo guitar playing.