Marware on Monday announced the Sportsuit Convertible, a new case for the fourth-generation iPod nano. It costs $29.99 and is available for pre-order.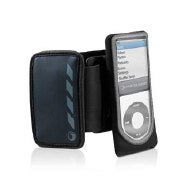 The Sportsuit Convertible is billed as a "3-in-1" case for the iPod nano. It's a sport case made of black neoprene that is three cases in one — it can operate as an armband case for runners or bikers, a clip-on case for users who would prefer to connect it to a belt or shoulder strap and a slim-profile sleeve for an extra layer of protection inserted into a pocket, gym bag, backpack or purse.
The outer shell of the Sportsuit Convertible features "Orca-skin" neoprene while the inside protects the iPod nano with a layer of lycra. The iPod nano can be inserted and removed quickly and easily, according to Marware. And a clear vinyl insert protects the screen and click wheel.