Code Line on Monday announced the release of Color Expert, an iPhone and iPod touch application. It's available for download and purchase from the App Store for $9.99.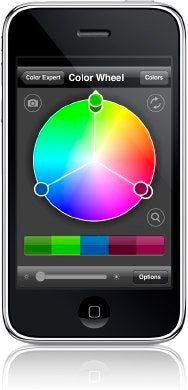 Color Expert helps artists and designers identify, translate, capture and show color using their iPhone or iPod touch. You can use an interactive color wheel to identify a target color and then find several palettes backed by color theory.
Multiple color schemes are supported including Monochromatic, Analogous, Complementary, Split Complementary and Triadic. You can search through Pantone solid coated, Pantone solid uncoated, Pantone Goe coated, Pantone Goe uncoated, Web safe colors and HTML colors, and e-mail palettes to others.
Color Expert requires an iPhone or iPod touch running iPhone 2.0 software or later.