Freeverse Software is launching a new line of sports titles for the iPhone, and the first out of the gate is Flick Bowling.
Bowling may not be the most exciting sport in the world, but it certainly has its enthusiasts and has had a recent resurgence in popularity among families and college students, so it's a sensible first step for Freeverse.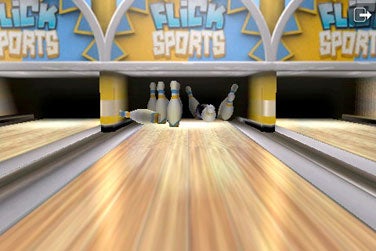 Flick Bowling features six different players and a variety of custom-designed balls ranging from stars and stripes to a globe to a Freeverse logo. You can either "free play" solo as any of the characters or play against the computer—or another player, passing your iPhone or iPod touch from hand to hand.
It's a standard 10-pin bowling setup, with 10 frames to score as many points as you can by knocking down pins. A strike—knocking down all 10 pins on the first ball—is preferred. But a spare—knocking down any remaining pins with the second ball—is also acceptable. What isn't acceptable, however, is when the ball rolls off into the gutter.
Aiming and throwing the ball down the lane is a simple and intuitive affair using the device's touchscreen interface. You position your player in the lane by moving him or her left or right with your finger, then throw the ball down the lane by flicking upward. The game determines the velocity and direction of your ball by your flick. Flick too slow or too fast and you're not going to get the right speed on the ball; flick too far left or right and watch the ball roll off into the gutter.
The initial release of Flick Bowling doesn't have the ability to hook the ball at all—a pretty standard strategy used by proficient bowlers to nail a strike—but the developers tell me that's coming in a free update.
You can adjust the game's difficulty level, which affects the sensitivity of the interface. By default, Flick Bowling is set at its lowest level, which makes it almost impossible to bowl anything but strikes and spares. So if you find yourself unchallenged if you buy Flick Bowling, try ratcheting up the difficulty slider a few notches—you'll find things markedly harder.
Flick Bowling has beautiful graphics and decent sound effects. I especially like the glare of fluorescent bulbs reflecting off the polished, waxed surface of the lanes. And it uses Freeverse's by now almost-trademark graphics, created by in-house artist, Steven Tze. So if you're familiar with Freeverse's graphics—and appreciate them—you'll find stuff to like here, too. The game also rewards you with lit signs letting you know you've bowled a strike or a spare, with a replay of challenging shots.
There's a lot that Freeverse left out, however. Bowling, when it's done by really enthusiastic players, can be a lot of fun, with shouts like "bedposts!" when someone rolls the inevitable 7-10 split (when pins in the 7th and 10th positions remain upright), "double!" when you roll two strikes consecutively, and "turkey!" when you roll three strikes in a row. These little embellishments—which I've seen done very entertainingly in arcade bowling games, complete with special animations and sound effects—are absent.
Also, the character animation is strangely lacking. You don't see bowlers taking the correct stance, for example, approach the foul line and release. The players simply appear at the foul line, bend and throw the balls, but they don't actually move at all. It could have made the game a bit more realistic, and also possibly more challenging, if these sorts of mechanics of bowling were actually considered as part of the gameplay.
In the end, Flick Bowling is fun, and exceeds other bowling titles on the iPhone in terms of production quality and realism. It's well worth the $5 Freeverse charges. (Actually, as of this writing, the App Store lists the price as $1, though Freeverse says that's for a limited time.) But if it sounds like I'm quibbling with Freeverse over details, well, it's because the devil is there, and it's also because I know what this company is capable of, and I expect that instead of bowling a strike with Flick Bowling, it landed a solid spare: still respectable, but just a bit off the mark.
Flick Bowling is compatible with any iPhone or iPod touch running the iPhone 2.x software update.
[Senior editor Peter Cohen covers games for Macworld's Game Room.]
Updated at 10:15 a.m. PT to clarify the game's price.