RAGE Software on Tuesday announced the release of iWeb SEO Tool 1.0, a new utility for iWeb users. It's free to download and use.
Sites created using iWeb — the Web site creation software Apple bundles as part of its iLife software suite — are not search engine-friendly, according to RAGE. As a result, Web users looking for content you may make available on your site may have a more difficult time finding it when searching using Google, Yahoo and other search engines.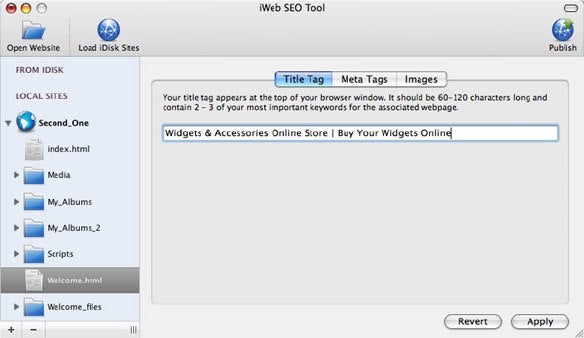 iWeb SEO Tool soles this problem by providing metadata content that makes it easier for Web search engines to index and understand what's on your site. You can use iWeb SEO Tool to add page title tags, meta tags and alternate image text without having to manipulate the underlying HTML code.
iWeb SEO Tool requires Mac OS X 10.4 or later.