Freeverse Software has released a new game for the iPhone called Plank. The game costs $1.99 and is available for download from the App Store.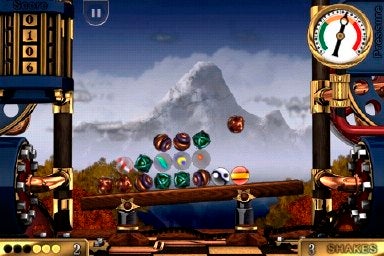 Plank is a marble balancing and color matching game in which you use the iPhone's accelerometer to tilt a plank back and forth. You balance the marbles on the plank to roll them or to match falling marbles of the same color — make lines of three or more to score points and remove the marbles. Let too many marbles rest on the plank and it will explode.
The game features powerups and specials, including a "Shake" smart bomb. It features three difficulty levels and a unique "steampunk" style featuring valves, brass fittings and analog gauges.
This marks Strange Flavour's debut as an iPhone game developer. They've previously collaborated with Freeverse on games including Airburst Extreme and Toysight Gold, the game that uses interaction with your iSight camera as the way to control what's happening on screen. In fact, a mini-game called The Plank is one of more than a dozen activities included with Toysight Gold, though it's been extensively retooled and redesigned for the iPhone.
Plank requires an iPod touch or iPhone running iPhone 2.0 software or later.