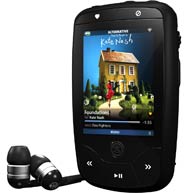 Internet radio is an excellent way to discover new music, but, as the name implies, you need an Internet connection. Internet radio services such as Pandora, Last.fm, and AOL Radio offer Internet radio apps for the iPhone, but they still require an Internet connection—and they also sap your iPhone's precious battery power. The folks over at Slacker have an Internet radio service and they also offer a way to enjoy Slacker without a constant Internet connection. With the G2 Personal Radio Player, you can load the device with songs from Slacker radio stations you pick and listen to the songs wherever you want without an Internet tether.
Now, before you read any further, there's an important thing about the G2 that Mac users need to know: Slacker doesn't yet have Mac software for the G2. (Slacker also says it's working on an iPhone application.) You can use Safari or another Web browser to configure your Slacker radio stations, but without software, the G2 is simply a device for playback of the Slacker Internet radio service that syncs via Wi-Fi. You can't connect to a Mac to load your own MP3s. (The G2 comes with Windows software that allows you to load MP3s as well as sync the G2 to your Slacker account if the PC is connected to the Internet.) If this lack of Mac interoperability is a deal-breaker for you, then you can stop reading (thank you for your time). If you're still interested, read on. I'll elaborate on how the G2 syncs with the Slacker service using Wi-Fi.
Slacker service
The G2 is a vehicle for taking your Slacker radio content with you, so you need to sign up for a Slacker account on the Web. A free account gives you access to 16 main radio stations sorted by genre (Alternative, Country, Hip-Hop/R&B, Jazz, Rock, and more). Each station also has several sub-genres (for example, Alternative has 12 sub-genres, including Indie, Modern Punk, and Party Alternative) and Slacker says there are millions of songs available. The free account limits you to 6 song skips per hour, limits the number of songs you can request, and plays ads, although the only ads I heard during my G2 testing were 4-second Slacker station ID-like announcements. (I often hear ads for the Navy when using Slacker on my Mac through a Web browser.)
The Premium service—available via one of three payment plans, ranging from $7.50 to $10 per month—is ad-free, has unlimited song skips and song requests, and allows you to play, at will, certain songs you like. Both the free and Premium services let you create custom radio stations based on a particular artist.
The device
Measuring 3.4 inches high, 2.1 inches wide, and 0.5 inches thick and weighing a scant but solid-feeling 2.6 ounces, the elegant G2 looks like a mobile phone—I wouldn't blame you if you picked it up and held it to your ear (though I might snicker). The 320- by 240-pixel, 2.4-inch color LCD is oriented in portrait mode like the screen on the iPod nano ( ), but there's no need to turn the G2 90 degrees in any direction to use the interface or view a graphic (the G2 doesn't play video). Text on the screen is clear and easy to read, images have good color, and I didn't notice any color banding. However, the screen was very difficult to read on a sunny day.
The front of the G2 has three buttons for track control: Skip Back, Play/Pause, and Skip Forward. If you have a free Slacker account, the Skip Back button is useless—you can replay a previous track only if you're listening to songs saved to the G2's Library, a feature that requires a Premium account. Above the LCD are Favorite and Ban buttons for rating songs.
The G2 uses a Scroll Wheel to navigate the software interface. It takes little effort to scroll up and down the menu, and you push the wheel to make a selection. Volume buttons are found atop the G2, next to the earphone jack; there's a Lock switch on one side; and a USB port on the other side lets you connect the player to a PC or the battery charger. The bottom of the player has a 30-pin Accessory Connector (sorry, it's different from the iPod's 30-pin connector—you can't use the G2 with iPod accessories).
Musical potpourri
To load the G2 with music, you need to visit your Slacker account using a Web browser on your Mac, add the unique G2 device ID (which you can find on the G2's settings screen) to your account, and select the stations you want on the G2. Then you connect the G2 to a Wi-Fi signal, enter a Wi-Fi password (if needed), and the G2 downloads the tunes. Running the setup for the first time ends up being an opportunity to check your Facebook account, catch up on email, wash your dog, or trim the hedges: it took nearly one hour and 20 minutes to load 10 stations. Fortunately, station refreshes don't take as long: between 5 and 20 minutes, depending on how many stations you have.
Once the stations are loaded, you select one of them through the Stations menu on the G2, music starts playing, and album art and track info appear. A couple of the features that I came to like very much are based on giving you more artist information. While a song plays, you can select the album art and a short album review appears, or you can select the artist's name and a short biography appears. Since the G2 holds a grab bag of songs, the reviews and bios are helpful when you hear something you especially like or hate.
Since Mac users are unable (as of this writing) to load your own MP3s to the G2, you're basically at the will of Slacker to pick the songs. Your song ratings influence the song picks, and if you have the Premium service you can save a Favorite song to the G2's library. But Slacker and G2 are truly about discovery and Slacker does a excellent job of playing music that fits the station genre while providing a wide variety of artists on major labels. As for music from smaller, independent labels, Slacker says adding such labels is an ongoing process.
To test battery life, I set the G2 to play a single station at the default settings, and I didn't use a Wi-Fi connection. The battery lasted about 14 hours before it shut itself down, one hour short of the stated 15 hours of battery life. After the battery test and a recharge, I noticed that connecting via Wi-Fi puts a heavier demand on the battery than listening to music, so you'll want to minimize your Wi-Fi connection when you plan to go a lengthy period of time between charges.
The sound quality of the G2 is on par with many other portable MP3 players; you can notice some of the effects of file compression, such as a lack of range for high and low notes. I noticed a vast improvement using higher-quality earphones, with better warmth, deeper bass, and more clarity. But if you're not nitpicky about sound quality, the included earphones do a good job without sounding cheap.
Macworld's buying advice
If you're a big fan of the Slacker Internet radio service, the Wi-Fi-equipped G2 Personal Radio Player is a great device that frees you being shackled to a computer. But if you already own an iPhone ( ) or iPod touch ( ), the G2 isn't compelling; you can either wait for a Slacker iPhone application, or switch to a service with an iPhone app, such as Pandora or Last.fm—plus, of course, you can load your own tunes.
[Roman Loyola is a Macworld senior editor.]