Old rituals wither and die; new rituals crop up and replace the old. When I used to work on the west side of Los Angeles, one of my favorite rituals was to stop every morning at a newsstand at Robertson Avenue and Pico Boulevard and load up on reading materials—three or four newspapers and often one or two magazines. The year was 1994.
I kept up the habit for about 18 months. Although I still read a ton of magazines, I almost never touch newsprint. But my daily ritual trip to the newsstand has been replaced by a routine check of my RSS feeds.
Now I can visit the newsstand and check my feeds, thanks to a clever app for the iPhone and iPod Touch called Newsstand.
Newsstand is a sophisticated RSS reader with a neat gimmick. Viewed in landscape mode, the app lets you skim the headlines from a rack of newspapers and magazines. All that's missing is the smell ink, newsprint and stale cigars. Of course, if the newsstand experience doesn't interest you, Newsstand also has a clean interface and an easy-to-read standard view that displays your feeds and subject folders.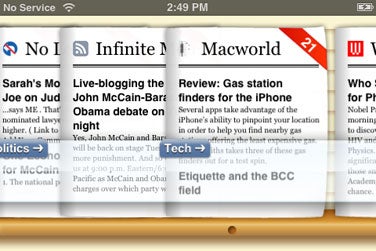 But browsing the rack is what makes Newsstand fun. From the newsstand view, simply double-tap the cover of the publication you want to read. A red band across the top of each magazine or paper shows how many stories are available. The publication opens with a list of stories on the left-hand page, with the current story's headline highlighted in yellow. The story or a short description of it appears on the right. When you're finished, tap the "X" in the lower right of the screen and you return to the newsstand rack.
You can also read a story in the vertical position, which does allow for greater control of the way text displays. When a story summary appears in a standard window. Simply tap the "eyeball" button in the bottom right corner and the story will open without ever leaving app. But you also have the option of launching the article in Safari.
Organizing feeds in Newsstand is fairly simple. You can create folders and add feeds with a couple of taps of a button. Users can mark all stories read or refresh all feeds with a single touch of a button, as well.
Newsstand offers a choice of six different themes, including a basic black-and-white view. I found all except for the notepad easy to read. Users can also adjust the app's settings to customize how stories will preview, how many stories each feed will display and retain, and whether or not to load images. That said, the developers should consider including the option of changing the type size with any of the given themes, including landscape mode.
Apart from quibbles about type size, my main complaint about Newsstand is speed. I experienced substantial lag between the newsstand view and the standard RSS view. With feeds that only list a two or three line story summary, you must turn the phone back to the vertical position to read further. Load times for the full text vary, too—a common malady among RSS readers. And I have yet to find an application yet that hasn't crashed on my iPhone. Newsstand seized and quit three times as I was trying to organize my feeds into folders. And the app gets stuck in landscape mode from time to time.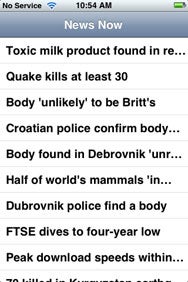 News Now is a free, bare-bones RSS reader. Unlike Newsstand, News Now allows for no customization whatsoever. You see a headline, you tap it, and you read the story in the iPhone's browser. That's it. And News Now pulls a feed from just one source, Australia's news.com.au.
If the aforementioned sounds like criticism, it really isn't. I like the simplicity of News Now. It works exactly as advertised. Apart from local Australia news, News Now serves as a solid source of international and even U.S. news in a simple, straightforward package. The developers say they plan to add other news sources in future updates. The app's only real drawback is the number of headlines it displays—usually no more than a dozen at a time. But that would be easily remedied in a future update.
Sophisticates should gravitate to Newsstand, but be on the lookout for future versions of News Now. In an age of austerity, the simplest rituals are often the most satisfying.
Both applications are compatible with any iPhone or iPod touch running the iPhone 2.x software update.
[Ben Boychuk is a writer and columnist in Rialto, Calif.]