At a Glance
Expert's Rating
Pros
Good general color reproduction
Three shooting modes
Cons
Yellow cast in video shot with typical indoor lighting
Outdoor shots have blue cast
Zoom stutters
Poor video quality in lamplight
Our Verdict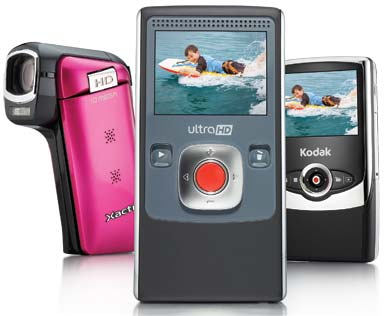 Up until a year or so ago, camcorders were fairly bulky things. That has changed. Thanks to the development of camcorders that store their recordings on flash media and operate on small batteries, manufacturers have been able to create cameras that can fit in a shirt pocket.
Now there are pocket camcorders that shoot in 720p (1,280 by 720 pixels) high definition. In this review roundup, we will look at what defines a pocket HD camcorder and review the features of some of today's popular models— Creative Labs' Vado HD, Genius's G-Shot HD520, Kodak's Zi6 and Zx1, Pure Digital's Flip MinoHD and Flip UltraHD, Sanyo's Xacti VPC-CG10, and Sony's Webbie HD MHS-PM1. (Kodak's new Zi8 [ ] was released after this roundup was completed.)
(Disclaimer: I'm the author of The Flip Mino Pocket Guide [Peachpit Press, 2009], which covers tips and techniques on using the Flip Mino camcorder.)
Pondering the pocket camcorder
Full-size HD camcorders are bulky. A pocket camcorder slips with ease into a pocket (though that pocket may need to be a deep one) or purse.
Additionally, pocket HD camcorders cost less than full-size ones—between $150 and $230, versus $500 or more for their larger siblings—and they're very easy to operate. In most cases, you just switch on the camera and press the record button.
The image quality from pocket HD camcorders is decent under good lighting, but they don't perform all that well in surroundings that are blazingly bright or underlit.
Because most of these cameras lack image stabilization, they can produce jittery video when held with shaking hands. And the digital zooms found on nearly all of them produce grainy images.
But quality isn't the only issue. The advantage of a pocket HD camcorder is its immediacy. Your precious memory may not be pristine, but at least you've captured something.
Pocket HD camcorder compared
| | Creative Labs Vado HD | Genius G-Shot HD520 | Kodak Zi6 | Kodak Zx1 | Pure Digital Flip MinoHD | Pure Digital Flip UltraHD | Sanyo Xacti VPC-CG10 | Sony Webbie HD MHS-PM1 |
| --- | --- | --- | --- | --- | --- | --- | --- | --- |
| Rating | | | | | | | | |
| Price | $230 | $149 | $160 | $150 | $230 | $200 | $200 | $150 |
| Video-capture resolutions | 720p (30 fps) | 720p (30 fps), 640 × 480 (30 fps), 320 × 240 (30 fps) | 720p (30 fps), 720p (60 fps), 640 × 480 (30 fps) | 720p (30 fps), 720p (60 fps), 640 × 480 (30 fps) | 720p (30 fps) | 720p (30 fps) | 720p (30 fps), 640 × 480 (30 fps), 640 × 480 (60 fps) | 720p (30 fps), 1,080p (30 fps), 640 × 480 (30 fps) |
| Approximate data rate (in megabits per second) | 4.3 | 6.3 | 8.8 | 11.3 | 10.4 | 9.1 | 9.3 | 4.0 |
| Photo stills | no | yes | yes | yes | no | no | yes | yes |
| Digital zoom | 2x | 5x | 2x | 2x | 2x | 2x | 5x (optical) | 4x (optical) |
| LCD size (in inches) | 2.0 | 2.5 | 2.4 | 2.0 | 1.4 | 2.0 | 3.0 | 1.8 |
| Storage | 8GB built-in | SD card (32MB built-in) | SD card (128MB built-in) | SD card (128MB built-in) | 4GB built-in | 8GB built-in | SD card (40MB built-in) | Memory Stick |
| File format | H.264 (44.1kHz mono) | H.264 (22kHz mono) | H.264 (48kHz stereo) | H.264 (48kHz stereo) | H.264 (44.1kHz mono) | H.264 (44.1kHz stereo) | H.264 (48kHz stereo) | H.264 (48kHz stereo) |
| TV interface | HDMI | HDMI | component, composite | HDMI, composite | composite | HDMI | composite | component, composite |
| Battery | removable lithium ion | removable lithium ion | 2 AA | 2 AA | fixed lithium ion | 2 AA (rechargeable battery pack included) | removable lithium ion | removable lithium ion |
| Dimensions (H X W x D, in inches) | 3.9 x 2.2 x 0.6 | 4.4 x 2.9 x 1.2 | 4.5 x 2.5 x 0.9 | 4.2 x 2.0 x 0.8 | 3.9 x 2.0 x 0.6 | 4.3 x 2.2 x 1.2 | 4.4 x 2.8 x 1.5 | 4.0 x 2.2 x 0.9 |
| Weight (in ounces) | 3.5 | 5.6 | 4.1 | 3.5 | 3.3 | 6.0 | 6.8 | 4.2 |
| Warranty | 1 year | 1 year | 1 year | 1 year | 90 days | 90 days | 90 days for labor; 1 year for parts | 90 days for labor; 1 year for parts |
Common features
While pocket camcorders have some features in common—a battery, a storage medium, an LCD screen, a way to connect the camera to a computer, and simple controls—they implement those features in different ways.
Form The truly pocketable camcorder looks similar to a candy bar–style mobile phone. The lens sits near the top of the camera and the LCD is on the back, usually above the minimal controls, typified by a single red record button, a play button, and a few additional buttons for zooming and navigating through captured clips.
Somewhat larger camcorders that feature a pistol-grip design—such as the Xacti and G-Shot—offer flip-out LCDs. These cameras include a few more controls—menu buttons and a button for taking still pictures, for example.
Battery The Vado HD, G-Shot, Xacti, and Webbie use proprietary removable batteries that charge either when the camera is connected to a powered USB port or when it's inserted into a charging dock. Using a proprietary battery means that you can't simply stop by a convenience store and buy new batteries if you run out of power when you're out and about, so you should consider buying an extra battery ($20 to $30) when you buy the camcorder. The Flip MinoHD has a nonremovable battery that you charge over USB. The Flip UltraHD, Zi6, and Zx1 use AA batteries. (The Flip UltraHD can also use a bundled battery pack chargeable over USB.)
With a removable battery you can swap in a new battery when you need more juice. With a nonremovable battery, your camera is out of action while you charge it. If your camcorder runs off AA batteries, you can easily find replacements in a pinch.
Memory Some of these cameras use removable media, while others include built-in storage. The G-Shot, Zi6, Zx1, and Xacti camcorders use SD media and the Webbie employs Sony's own Memory Stick card. The Vado HD and both Flip camcorders use internal memory—the Flip MinoHD has 4GB of memory, whereas the Flip UltraHD and Vado HD each include 8GB of memory.
Removable media is helpful when you've filled the card but you don't have a computer nearby where you can offload your clips. All you need to do is swap cards. That said, the Flip UltraHD and Vado HD can hold up to two hours of video in their 8GB of internal memory. That should be plenty.
LCD All pocket camcorders use an LCD for both viewing your subject while shooting and watching the videos you've shot. Screen sizes, measured diagonally, vary from tiny (the Flip MinoHD at 1.4 inches and the Webbie at 1.8) to midsize (the 2-inch displays on the Flip UltraHD, Vado HD, and Zx1) to fairly spacious (the Zi6 at 2.4 inches and the G-Shot at 2.5) to the Xacti's this-is-like-a-real-camcorder 3-inch flip-out LCD.
The LCDs on the G-Shot and Xacti camcorders offer the ability to easily take self-portraits, because you can rotate the LCD to center yourself in the frame. They also make it easier to shoot subjects when you need to hold the camera over your head. With the candy bar–style camcorders, you can't see the screen when the lens is pointed at you or when you hold the camera over your head.
The Webbie addresses this problem in an interesting way. Instead of a moving LCD, it has a lens mounted on a rotating barrel at the top of the camera. To capture something over your head, hold the camera up and rotate the lens about 45 degrees. The camera body is angled so you can see the display. It's a cute gimmick, but I didn't find it all that useful. It would be more helpful if the rotation had a click stop, instead of moving smoothly.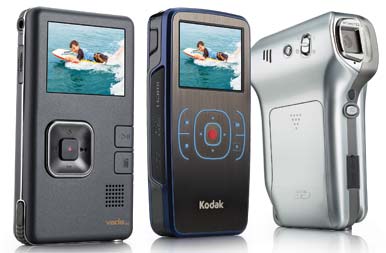 None of these cameras offers an optical viewfinder, so they need to have LCDs bright enough to remain visible in direct sunlight. Fortunately, they all do.
Shooting modes Each of these cameras shoots 720p HD video; some can shoot other modes as well. The G-Shot shoots stills in addition to 720p and standard-definition (640 by 480) movies, and it's the one camera that can shoot at a low-quality 320 by 240 resolution. The Zi6 and Zx1 camcorders can shoot in three modes—720p at 30 fps, 720p at 60 fps, and standard definition (640 by 480) at 30 fps—and capture stills. The Xacti shoots 720p video at 30 fps and standard-definition video at either 30 or 60 fps. It too takes still shots—it can do this even when you're shooting video. And the Webbie shoots 1,080p at 30 fps, 720p at 30 fps, and standard-definition video as well as stills.
File format These camcorders shoot video encoded in H.264 format. Also known as MPEG-4 Part 10, or MPEG-4 AVC (Advanced Video Coding), H.264 produces good results from low bit-rate captures. (The lower the bit rate, the smaller the file size and the poorer the video quality.)
Some of the files are wrapped in a file format that's not QuickTime-compatible. For example, the Vado HD and G-Shot camcorders produce H.264 movies wrapped as AVI files. QuickTime won't play these movies natively. You must install software such as the free Perian QuickTime component (perian.org), which lets your Mac read these files.
Data rate These camcorders differ in their data rate—the amount of data captured in the resulting files. And that data rate is reflected in how the movies look (though it's not the only factor that influences their quality). The cameras that capture at data rates below 7 Mbps (megabits per second)—the Vado HD (around 4.3 Mbps), the G-Shot (around 6.3 Mbps), and the Webbie (around 4 Mbps)—produced video that lagged behind the rest of the pack in quality.
However, higher data rates don't guarantee better video. The Flip MinoHD has higher data rates (around 10.4 Mbps) than its sibling, the Flip UltraHD (around 9.1 Mbps), but the UltraHD's results are more pleasing.
Sound The Flip MinoHD and Vado HD capture 44.1kHz mono, while the G-Shot manages only 22kHz mono. The Flip UltraHD is the sole camcorder that captures 44.1kHz stereo. The rest use 48kHz stereo audio.
The built-in microphones on these cameras are fine for subjects within a couple of feet, but the sound on some of these devices gets very thin at a distance. Those that had the best sound (meaning good volume and fullness) were the Zi6, Flip UltraHD, and Webbie.
Computer connection and editing All of these camcorders connect to a Mac via USB. The Flip camcorders, the Zi6, and the Vado HD make this very easy, thanks to built-in flip-out USB connectors. The others include either mini- or micro-USB ports and cables. If a camcorder uses a removable memory card, you can plug the card into an external card reader.
Some of the cameras are bundled with Windows software for video editing. The exception is the Mac- and Windows-compatible FlipShare software included on every Flip camcorder. Though basic, it allows you to easily move clips from the cameras, trim them, create simple titles, export the finished product, and upload movies to MySpace and YouTube. The software is permanently planted on each Flip camcorder.
The lack of editing software isn't a problem; you can import recorded videos into iPhoto. You can then import them into iMovie for editing. Again, you need something like the Perian QuickTime component to read and edit movies from the Vado HD and the G-Shot.
AV connection Given that these are all HD camcorders, you'd think they'd all allow you to send out HD video when attached to an HDTV via HDMI. Not so. The Flip MinoHD and Xacti output composite video only. If you want HD, you have to export the video from the camera and put it on a medium or device that can play it on your TV (a DVD or Mac attached to the set, for example). The Zi6 and Webbie support both composite and component video output. The Vado HD, G-Shot, and Flip UltraHD include jacks for connecting to an HDTV via an HDMI cable. The Zx1 supports HDMI and composite outputs.
Next page: Features you don't get in a pocket HD camcorder, usability, and image quality (with samples)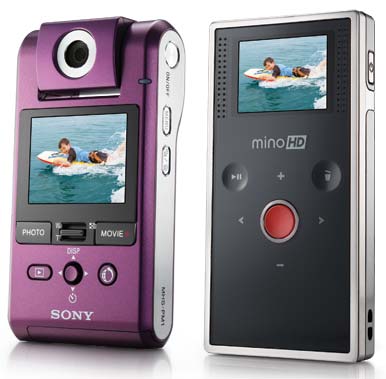 What's missing
If pocket camcorders provided all the bells and whistles of a full-size camcorder, the larger camcorders wouldn't have a reason to exist. Compactness usually requires these compromises.
Image stabilization A feature that's built into a camcorder to compensate for camera shake—image stabilization—is absent in nearly all of these cameras. The exceptions are the G-Shot and the Xacti, which have digital image stabilization.
Optical zoom Most of these cameras offer digital zoom only (usually 2x). The exceptions are the Xacti, which includes a 5x optical zoom, and the Webbie, which has a 4x optical zoom.
Digital zoom magnifies pixels to give the illusion that you're closer to your subject. This makes the resulting video grainy and soft. You'll get better results by moving closer to your subject.
It's bad enough that you're stuck with digital zoom, but it's worse when that zoom stutters. Unfortunately, that's the case with the Vado HD, G-Shot, Zx1, and Webbie. The Zi6 and both Flip camcorders zoom smoothly, and the Xacti offers the best zoom of the bunch.
External microphone port The quality and range of each camera's built-in microphone is important because none of these cameras includes a port for connecting an external microphone.
Enhanced shooting modes In most cases, these are truly point-and-shoot camcorders, offering no means of controlling exposure, white balance, or ISO.
The exception is the Xacti, which allows you to adjust exposure, white balance, ISO, and focus settings. It also includes a variety of scene selections—Sports, Portrait, and Lamp, for example—and lets you choose from a variety of still resolutions, from 640 by 480 on up to 4,000 by 3,000. And it has a macro still mode. This versatility is nice to have, but it does mean you may need to dash to a menu to adjust the camera, which defeats the purpose of a pocket camcorder—to offer a quick and easy way to shoot video.
A grip on the interface
Most of the candy bar–style pocket camcorders feature the "Obvious Red Button" control. On the back of the camera is a red button that initiates recording when pushed. Press it again to stop recording. To play back video you've shot, press a play button. These cameras also have a button with a trash-can icon—the one to push when you wish to delete a clip.
Nearly all of these cameras offer a four-position switch or four buttons arrayed around the record button. To zoom in and out, push the switch or the buttons up and down while recording. To adjust volume, push the same controls up and down while playing clips. On the Flip camcorders and the Vado HD, the left and right switches do nothing while you're recording. When you're playing video, they let you move between recorded clips. On the Zi6 and Zx1 camcorders, you use the left and right positions of the joystick (Zi6) or buttons (Zx1) to select shooting modes. During playback, they work similarly to those on the other cameras, moving you through clips.
All the candy bar–style cameras except for the Flip MinoHD use buttons or switches you have to physically push. The touch-sensitive buttons on the back of the Flip MinoHD (save the record one) activate too easily if you're not careful about where you place your thumb.
The Webbie offers a different sort of interface, with a movie button and a photo button. Below those is a joystick button that allows you to navigate clips and pictures and adjust volume. A separate zoom toggle sits between the photo and movie buttons.
I prefer the buttons to a joystick because you can be very exacting about which button you push—it's too easy to push a controller in the wrong direction. If you've used a traditional camcorder with a flip-out screen, you'll feel at home with the Xacti. Video and photo buttons appear on the back of the camera, with a zoom switch between the two. A play button sits below the video button, a set joystick button next to it, and a menu button below those items. To configure the camera's functions, you use the menu button and simply march through menus displayed on the LCD.
The G-Shot camera's interface, however, lacks genius. To shoot video, you press a record trigger on the front of the camera—easy enough. But to zoom, you have to move a switch on the right side of the camera, which is clumsy. The Flash button and the Landscape/Macro toggle aren't as vital to impromptu shooting as zoom is, but their locations on the camcorder still seem oddly awkward. The LCD-based menu system, which you access by pressing a menu button, is reasonably easy to navigate, but its commands aren't intuitive.
Picture show
It's important to understand that every one of these camcorders is a study in compromise. They all have small, inexpensive lenses and tiny sensors (the electronic elements that capture images). None of them performs perfectly. To find out how they compared, I shot video outside in bright sunlight, inside in a sunlit room, and inside at night under lamplight, and I checked skin tones by filming a human subject.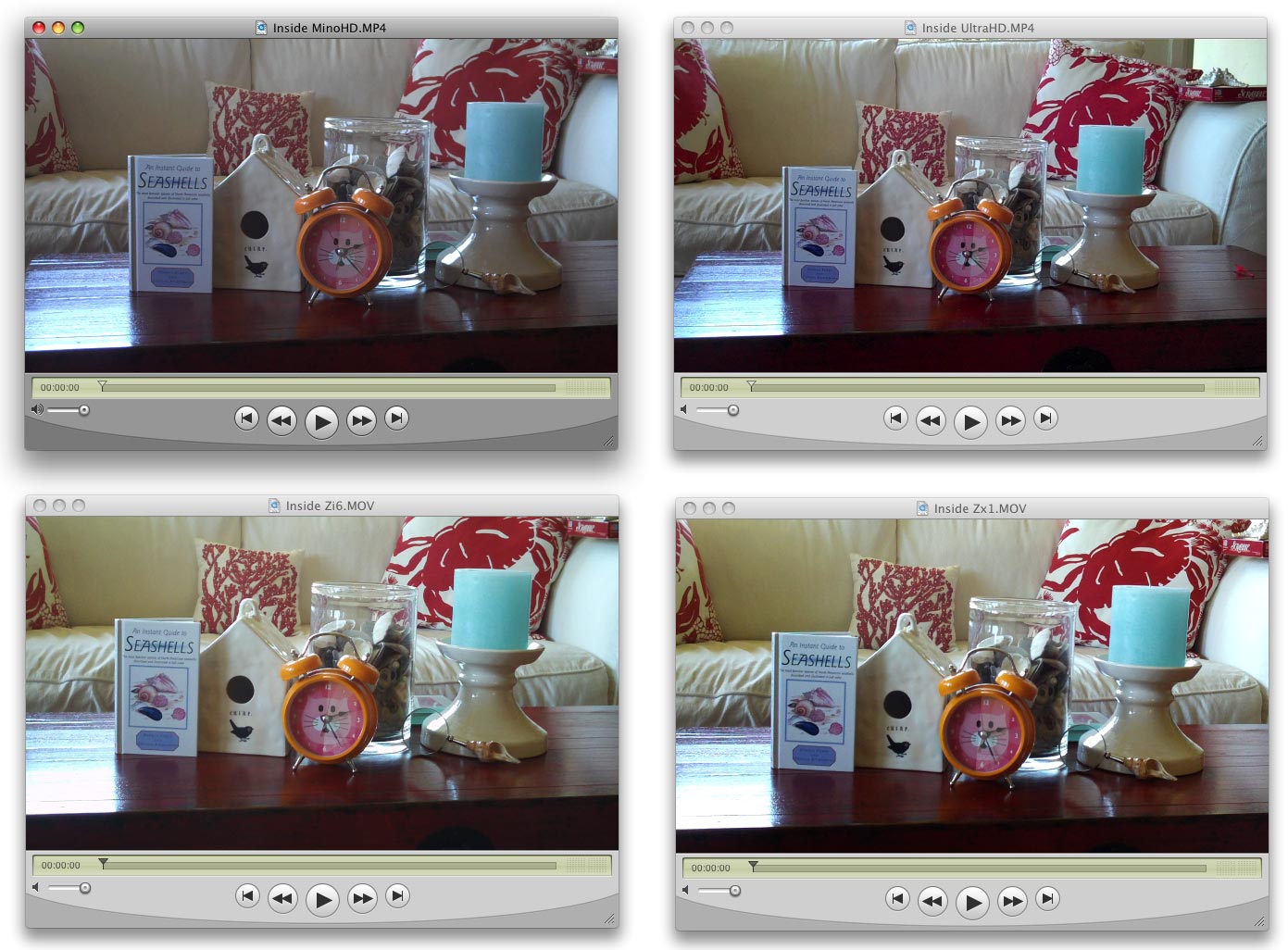 Disappointingly, the Webbie and G-Shot were consistently poor performers in our video tests. The Webbie's video was lifeless—colors were washed out and indoor skin tones had a sickly green hue. The G-Shot produced very nice indoor skin tones and good detail, but outdoors under bright sunlight the videos had too much contrast, with blown-out whites and murky shadows. The G-Shot's clips were jaggy.
In the middle of the pack were the Zx1, Vado HD, and Flip MinoHD. Overall, the Zx1 has a too-blue tone outdoors and a too-yellow tone indoors, and in lamplight its images look terrible. Also, the Zx1's video doesn't present a lot of detail. The Vado HD's video is too bright under all conditions, and its indoor skin tones are very blue. The Flip MinoHD has decent outdoor video under good light, but it creates a yellow cast when shooting indoors under lamplight.
The better-performing cameras were the Zi6, Flip UltraHD, and Xacti. Of these, the Xacti is clearly the most versatile, but its video is oversaturated under all conditions, and its auto settings produce indoor video that's a little dark. You can deal with some of these issues by playing with the camera's ISO, white balance, and scene settings, but doing so means fiddling with the camcorder every time you shoot. The Zi6 produces decent color in all but extreme lighting conditions, but its video doesn't have the level of detail and the depth of field you get from the Flip UltraHD. The Flip UltraHD performs well in most lighting conditions, though indoor shots had a slightly blue cast. It does the best of this group in low light.
Macworld's buying advice
Overall, Pure Digital's Flip UltraHD is our pick. With its 8GB of storage (which holds about two hours of HD video), ease of use, nice LCD, reasonably balanced color, decent microphone, and ability to capture watchable video in almost all lighting conditions, it's a great choice for a pint-size camcorder.
[Christopher Breen is a senior editor for Macworld. Product photos by Peter Belanger.]