Kingston Technologies on Wednesday announced that it is shipping a 32GB version of its DataTraveler 150 USB flash drive. The DT150 costs $139.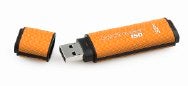 The DT150 is Kingston's highest-capacity USB flash drive. It works with Macs, Linux and Windows PCs, and measures 3.06 x 0.9 x 0.47 inches. The DT150 plugs into an available USB port and shows up on the computer's desktop as a mass storage device.
System requirements call for Mac OS X 10.3 or later.