Freeverse Software has released Burning Monkey Puzzle Lab for the iPhone and iPod touch. It costs 99 cents and is available for purchase and download from the App Store.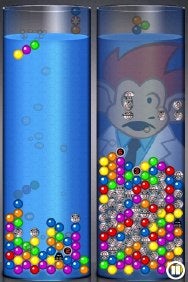 Based on their Mac game of the same name, Burning Monkey Puzzle Lab combines five action puzzle games in one — Color Reaction, where you match colored balls; Hex Bonding, where you assemble rows of falling pieces; Test Tube, where you must rotate balls in-line to create matches; Mission Mode, which combines all modes and adds a new quest for each level; and Zen Mode, which features zen graphics, haikus and no pressure.
The game features more than 15 "Special Power" pieces and a "Versus" mode that lets you compete against the computer.
Burning Monkey Puzzle Lab requires an iPhone or iPod touch running iPhone 2.0 software or later.