At a Glance
Expert's Rating
Cons
Slower than expected
USB only
Our Verdict
SimpleTech's 500GB [re]drive is an environmentally friendly external hard drive that promises energy savings and high performance. Though it's both aesthetically pleasing and environmentally conscious, the drive is handicapped by its USB connection speed.
The earthy and chic external chassis is made from locally grown bamboo and recycled aluminum. The packaging is also 100 percent recyclable and contains only the bare essentials (such as a setup guide written on the interior of the box) to help reduce waste.
The [re]drive is also energy conscious. It uses an Energy Star power adapter, and, according to SimpleTech, the specially sourced low-power drive saves users up to 90 percent in power consumption. There's no fan, which means less energy to power the re-drive and less noise; instead, the aluminum enclosure acts as a heat sink. The drawback is that the drive is heavier than you'd expect for a drive of its size.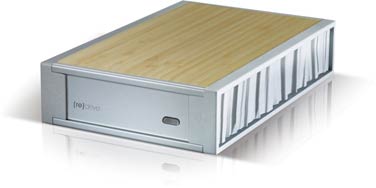 SimpleTech boasts a new feature called Turbo USB, which the company claims will make for much faster USB performance. Unfortunately, the Turbo USB drivers for Mac will not be available until January, so we tested the [re]drive with a standard USB connection. We'll update our test results when SimpleTech releases the Turbo USB drivers for the Mac.
The obvious positive with a USB connection is that it is universal; virtually any up-to-date computer can use the [re]drive. But without Turbo USB, the 7,200 rpm [re]drive is slower than many desktop drives we have reviewed that feature FireWire or eSATA. Copying a 1GB file to the drive took on average 55 seconds; that's a couple of seconds slower than most USB 2.0 times for desktop drives, and up to 20 seconds slower than drives that have eSATA or FireWire 800.
The [re]drive turned in more impressive duplication test times and low-memory Photoshop scores. The duplication test times were 8 seconds faster than competing drives' USB times, but still 30 percent slower than desktop drives with FireWire 800 or eSATA connections. The [re]drive's low-memory Photoshop test was only 10 percent slower than competing external drives' Photoshop score with the faster eSATA connection. The [re]drive was nearly twice as fast as competing drives utilizing USB connections.
Timed trials
| | |
| --- | --- |
| Copy 1GB file via USB 2.0 | 0:54 |
| Duplicate 1GB file via USB 2.0 | 1:20 |
| Low-memory Photoshop via USB 2.0 | 1:36 |
Scale = Minutes: Seconds
Macworld's buying advice
Although it isn't the fastest drive around, the [re]drive's status as an environmentally conscious product makes it more enticing than many similarly priced 500GB drives, and it's more aesthetically pleasing than your standard external drive.
[Chris Holt is a Macworld assistant editor.]