If you're looking to fill your brain up with the latest information about iPhone development, then Apple's happy to help you out. Beginning at the end of October, Apple is holding a worldwide series of free tech talks about the iPhone, giving developers a chance to interact with Apple engineers and evangelists and get their questions answered about developing for the iPhone.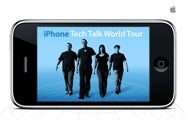 The all-day talks cover a wide range of topics, from an introduction to Objective-C and Cocoa Touch to how to integrate the iPhone into an IT environment. Other subjects include submitting your app to the App Store, iPhone Game Development, and a multi-hour Technical Q&A, for which bringing your laptop, code, and iPhone is recommended.
There are twenty-four talks being held in sixteen countries between October 22nd and December 9th, though space is limited (the New York City talk is already full, but there is a waitlist). In order to attend a talk, you must be a Registered iPhone Developer, which you can do for free on the Apple Developer Connection website.