ezGear has released its ezView Leather Case for the iPhone 3G. The new case costs $34.99.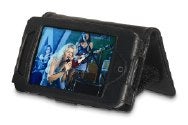 The ezView Leather Case is a slim-profile case that also acts as a stand to let you watch video from your iPhone without having to hold it in place. The flip-top cover protects the iPhone when it's not in use and the case is closed. The case is also equipped with two non-skid rubber feet to keep it from slipping.
The cover is held in place using a "light touch" magnetic closure, and the case has space for credit cards and business cards. The case is also open at the top and bottom to allow access to all controls and ports. A removable belt clip is included.