At a Glance
Expert's Rating
Our Verdict
Tom Bihn's Zephyr is billed specifically as a laptop "briefcase" for good reason: This sturdy, waterproof bag has a pre-formed shape that makes it best-suited for business-minded people who have a lot of material to haul. If you require crisp, clean, organized files when you arrive for a meeting, this bag is for you.
On the other hand, the Zephyr isn't well-suited for users demanding versatility. As someone who is used to cavernous messenger bags, I found the pocket access points difficult to manage. The most-useful utility compartment is under a flap secured by a buckle; it required some effort to dig out my Chapstick.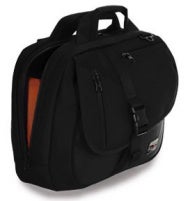 The bag's most valuable asset—expandability—is also its biggest downside. By itself, the Zephyr is a solid briefcase, but offers no laptop protection. If you want to use the Zephyr as a laptop bag, you must purchase a separate laptop sleeve; for example, the hard-sided Horizontal Brain Cell ($60; can also be used separately) or the soft-sided Soft Cell ($30). And if you want more organizational features, you can add the Horizontal Freudian Slip, which offers a file organizer, zippered pockets, and spaces for a phone, pens, and the like—but that will cost you another $35. Pretty soon you're talking real money. And these add-ons add bulk: with everything packed and loaded, the Zephyr is nearly as heavy and cumbersome as a traditional briefcase. (If you want a shoulder strap, you'll need to pony up another $10, $20, or $30. I tested the $30 strap, which was great for single-shoulder use, but uncomfortable when used messenger-style.)
The Zephyr is attractive and well-made—Tom Bihn bags are manufactured in the U.S. and include a lifetime guarantee—but you pay quite a bit for that quality. Unless you have specific organizational needs, there are more-versatile options out there.