When Apple announced the aluminum iMac in August 2007, the company also quietly released two new keyboards: the full-size, USB-connected Apple Keyboard (

) and the smaller, Bluetooth-connected Apple Wireless Keyboard (

). Sporting a dramatically different look and feel from previous Apple keyboards, the new line featured an impressively thin design with MacBook-style keys, making the two keyboards unlike any other Apple had made—and unlike any other on the market, for that matter. Although Apple ships both the current iMac and current Mac Pro with the new Apple Keyboard, you can buy either on its own for use with your older Mac.
Show your metal
As with the current iMac line, both Apple keyboards are made of anodized aluminum. At just over a quarter of an inch thick—perhaps the thinnest models on the market—each has a white plastic base and thin, white keys that look and feel almost exactly like those on Apple's current MacBook line.

At 16.9 inches wide by 5 inches deep, the standard Apple Keyboard features a full complement of standard keys (including a numeric keypad), full-size directional-arrow keys, and the traditional home/end/page up/page down/delete group—although instead of a help key, this group includes an fn key (a modifier key that gives some keys a dual purpose). Yet the Apple Keyboard takes up less space than most full-size models because it sports very little open space around the edges, as well as a key layout that uses smaller function keys (F-keys) positioned flush against the top of the number row. At the rear is a half-inch-thick bar, spanning the width of the keyboard, that hosts two USB ports and raises the rear of the keyboard slightly.
The Wireless Keyboard, at 11.1 inches wide by 5.1 inches deep, looks like Apple took the standard version and lopped off everything to the right of the return key—it's missing the numeric keypad and end/home group, although the arrow keys have been moved beneath the right-hand shift key. While many a Mac user has lamented this decision, the design has two significant advantages over a full-size keyboard. First, the Wireless Keyboard is nearly ideal for using on your lap—with a Mac in a home entertainment center, for example, or when you want to move back a bit from your desk—because the main area of the keyboard is centered and there's no unstable overhang. Second, the compact size, thin profile, and light weight (less than a pound) mean the Wireless Keyboard easily slips into a laptop bag, making it great for setting up a more ergonomic workspace on the go. And because the keys are full-size and spaced normally, you don't suffer while typing, as you do with many other portable keyboards. Under the rear edge is a cylindrical bar, housing the keyboard's AA batteries and Bluetooth circuitry, that elevates the rear of the keyboard approximately half an inch.
White Chiclets
Many Mac users were surprised that Apple's new keyboards abandon traditional desktop-keyboard dome-switch keys in favor of the same thin, flat, square keys found on the company's current MacBook and MacBook Air ( ). And as with the MacBook keyboard, some people will hate these new models for their keys alone. But it's worth giving this key design a chance: I found that I liked it much more after a month of use than I did when I first tried it. Although the keys look smaller than normal, the tops are the same size as those found on traditional keyboards, and the keys are spaced normally. The low profile is comfortable; the travel—the distance you have to press a key for it to register—is very short; and the keys are easy to press, leading to less typing fatigue. The keys also provide good tactile feedback—it's obvious, by feel, when you've pressed each key far enough to register.
On the other hand, this key design has some notable drawbacks, especially for touch typists. Whereas most keyboards use keys with a slightly concave surface to keep your fingers from sliding off, the top of each key on Apple's keyboards is perfectly flat and very smooth. While typing by touch, and especially when typing quickly, I often found my fingertips sliding a bit—occasionally enough that I would hit neighboring keys.

Similarly, because most keys are exactly the same size and shape, even experienced touch typists may find themselves having to look at the keyboard to find various keys. I found that this was especially so with the function keys, which are mashed together in a single line (rather than in the traditional four-key groups) and placed flush against the keys in the main part of the keyboard. For example, I regularly pressed the eject key (F12) when I meant to press delete.
One other minor drawback to these flat, low-travel keys: it's even more important to keep out crumbs and other detritus. Because the keys and the keyboard are so thin, and the amount of key travel so small, even a small cookie morsel is enough to keep a key from registering.
What's your function?
As with Apple's recent laptops, Apple's standalone keyboards offer a number of special features via the function keys. On both keyboards, F1 and F2 control screen brightness when used with an Apple display; F3 is assigned to Expose's All Windows mode; F4 toggles Dashboard; F7, F8, and F9 act as back, play/pause, and forward, respectively, for iTunes ( ), iDVD, iPhoto ( ), and several other programs; and F10, F11, and F12 function as mute, volume down, and volume up, respectively. To the right of F12 is a dedicated eject key. These special functions require no third-party drivers, although you do need to be running Mac OS X 10.4.10 or later with Apple's latest Keyboard Software Update.
You can use the Keyboard & Mouse pane of System Preferences to choose whether these functions require you to simultaneously press the fn key, located to the right of the Delete key on the standard keyboard and to the left of the left-hand control key on the Wireless Keyboard.
One drawback to these special-function function keys is that you can't customize their behavior. For example, I had no success using Keyboard & Mouse preferences to configure F3 to invoke Expose's Desktop mode instead of All Windows mode.
As for the function keys themselves, the Wireless Keyboard stops at 12, due to space restrictions, but the wired model adds F13, F14, and F15 over the fn, home, and page-up keys, respectively, and F16 through F19 over the numeric keypad. These additional keys can be assigned various functions using Keyboard & Mouse preferences or a third-party macro utility such as QuicKeys, iKey, or Keyboard Maestro.
Layout is key
As someone who spends hours each day typing, I find the layout of a keyboard's keys to be just as important as the overall design and key feel. For the most part, Apple's keyboards pass the layout test, arranging standard keys in their proper locations and at their proper sizes. On the Wireless Keyboard, the right-hand command and option keys are a bit smaller, and the right-hand control key has been removed, to make room for the directional arrow keys—a common approach for small keyboards.
On the other hand, there are some questionable layout decisions here. I mentioned one already: the single line of function keys pushed flush against the number keys. Another is the location of the escape key, which is just to the left of F1 and just above the backtick/tilde (`) key; when trying to press command-`—the Mac OS X-standard shortcut for cycling through windows—I often accidentally pressed command-escape, which invokes Front Row. And on a full-size keyboard, I still prefer the approach of Apple's older models, which placed volume, mute, and eject keys above the numeric keypad, making them easier to press without looking at the keyboard.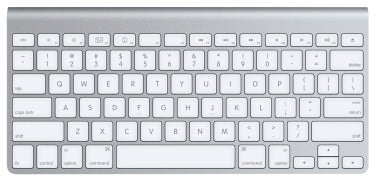 Make the connection
The standard Apple Keyboard connects to your Mac via USB and provides two USB ports, one on each side near the rear edge. These are low-power USB ports, which means that they're designed for connecting additional input devices, such as a mouse or tablet, rather than hard drives or other peripherals that require a good amount of USB power. The keyboard's USB cable is a short 34 inches, but an included USB extension cable lets you extend the distance between the keyboard and your computer.
The Wireless Keyboard connects via Bluetooth, which is standard on every recent Mac; you can add Bluetooth to older Macs via an inexpensive USB dongle. (I tested the keyboard using the built-in Bluetooth functionality of a Mac Pro and a MacBook Air.) Pairing the keyboard—connecting it with a specific computer via Bluetooth—is a quick and easy process, and once it was paired I had no connectivity problems, even after waking the keyboard from its power-saving sleep mode or after turning it on from a powered-down state.
The Wireless Keyboard runs off three AA batteries, which should last several months with daily use and much longer with light use—I've been using a Wireless Keyboard intermittently for ten months on the original batteries. (The Keyboard & Mouse pane of System Preferences displays remaining battery life.) The keyboard goes into sleep mode after a period of inactivity to conserve power, waking up quickly if you press any key. You can also turn off the keyboard completely by holding down the power button for several seconds.
Macworld's buying advice
If you're looking for a replacement keyboard for an older Mac, or if you want a standalone keyboard to use with your Mac laptop, the Apple Keyboard is a solid offering, provided you like its MacBook-like keys and key layout. However, there are a number of other keyboards on the market, some of which we'll be reviewing soon, that offer better designs for touch typists.
When it comes to compact, wireless models, on the other hand, there's little competition for Apple's Wireless Keyboard. It's among the smallest and lightest models on the market, yet it doesn't sacrifice full-size keys and it provides a mostly standard key layout. (The issues I described with function-key layout are forgivable in a compact keyboard.) If you can do without a numeric keypad—and, again, you don't mind the Chiclet-style keys—it's a great keyboard for your laptop bag or your lap.
[Dan Frakes is a Macworld senior editor.]
Updated 10/17/2008: corrected battery info for Wireless Keyboard.