Digital Lifestyle Outfitters (DLO) on Friday announced it's shipping the TransDock Direct, a new dock and charging system for the iPod. It costs $59.99.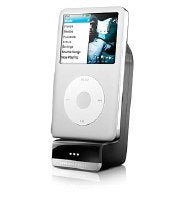 The TransDock Direct designed to work in vehicles equipped with a stereo that has an auxiliary input. It includes a support arm and detachable 12-volt power socket. It can also be used with a separately available cassette adapter.
The dock rotates to enable you to position your iPod horizontally, navigating the iPod touch using Cover Flow, for example. And the power socket lets you simultaneously charge your iPod and another device, such as a cell phone or GPS unit.