Delkin Devices on Friday announced it's shipping its Secure Digital to CompactFlash card adapter. The adapter costs $29.99.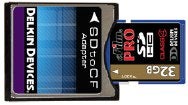 The SD to CF card adapter enables users with SD cards to use them inside devices that rely instead on CompactFlash. Many digital cameras, card readers, adapters, portable storage devices, audio devices and digital photo frames work with CF cards.
The adapter is SDHC compatible. It sports a "push-push" interface to make it easy to insert and remove SD cards once they're in the adapter.