United Lemur, a group of veteran Mac and iPhone developers, on Thursday announced the company's first product, Puzzllotto for iPhone. Available sometime in the next few weeks for $4.99, Puzzllotto is described as an "exploration puzzle game," in the spirit of Zork and Myst, set in the dark jungles of an "eighth continent."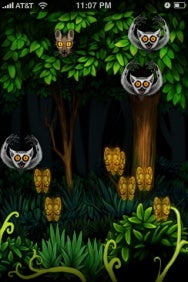 Among the contributors to Puzzllotto is IconFactory's David Lanham, who worked on the game's artwork. At a press event on Thursday, United Lemur noted that the game's graphics are so detailed that you can tell the difference between male and female lemurs. (None of the press in attendance asked for proof of this claim.) The game's audio includes nature sounds licensed from Dr. Douglas Quin, a well-known sound designer who also did the audio for Spore.
United Lemur is a new software company started by Mike Lee, one of the founders of iPhone-app developer Tapulous and a former developer of Delicious Library. The company also includes developers who have worked on VMWare Fusion and Apple's Safari browser.
At a press event on Thursday, Lee said that United Lemur's philosophy is to "Ship beautiful products to make a better world." For example, ten percent of the company's net revenue will go to various charities; in the case of Puzzllotto, to the Madagascar Fauna Group, an organization dedicated to protecting lemurs and other endangered wildlife in Madagascar. According to Lee, United Lemur also wants to be an advocate for independent developers. The company hopes to create, through its new Fundware site, opportunities for developers to expose their products directly to the public without having to first raise venture capital.