The original iPhone and iPod touch were terrific devices for playing music you'd placed on them. With the advent of the App Store, they're now capable of playing music streamed from such online music services as Pandora, Last.fm, and AOL. But what about terrestrial radio? Weather Underground's WunderRadio has you covered.
This $6 application for the iPhone and iPod touch works in league with RadioTime, the Dallas-based service that provides the means for streaming terrestrial radio content to devices such as Logitech's Squeezebox and applications such as Rogue Amoeba's Radioshift. WunderRadio uses RadioTime's services to locate and deliver streaming radio to your iPhone or iPod touch. (Downloading this content is not supported.) Additionally, it can play audio weather reports from Weather Underground and feeds from emergency scanners located throughout the U.S.
The interface is a cinch to navigate. Along the bottom you find three icons—Stations, Favorites, and Now Playing. Tap Stations at the bottom of the screen, and you'll see three categories—Weather Underground, RadioTime, and ScanAmerica.us. Thrilling as listening to weather and police reports may be, you're going to spend most of your time listening to RadioTime stations, and WunderRadio makes them easy to find.
Under the RadioTime heading, you can tap Local Radio by GPS and WunderRadio will use your iPhone or iPod touch's current location settings to list local weather radio and RadioTime stations. (WunderRadio's use of the term "GPS" is a little broad. GPS in this case means location rather than global positioning. This feature also works with Wi-Fi and cell-tower location.)
You can also tap Browse Sports, Browse Talk, Browse Music, and Browse by Location entries to do exactly what those commands suggest. When you tap Browse by Location you're presented with a list of large land masses—Africa, Australasia, Europe, and North America, for example. Tap an entry and you'll see a list of countries. Tap a country to see cities, provinces, or states. Tap again to finally arrive at a list of stations. You can also locate a station by entering its call letters or URL in the Search field at the top of the screen.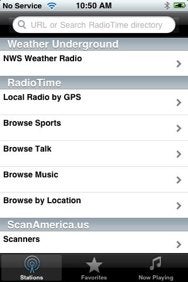 To the right of station listings you'll see an E, 3G, or Wi-Fi symbol with a number such as 32, 128, or 256 below. The first suggests the kind of minimum network connection needed to successfully stream the content—EDGE, 3G , or Wi-Fi. The number below tells you the bit rate of the stream (higher bit rates mean more data, which means a faster required network). In some cases, an entry appears below a station's call letters to indicate its currently playing content—the name of a talk show host or program (Fresh Air or All Things Considered, for example).
Tap a station and the Now Playing screen appears. Near the top, you see the station's call letters and a gray rectangle that displays information about the station with a volume meter just below that information. Below that is an Other Stations Like This area with four entries. Tap that area and a list of related stations appears on the screen. At the bottom of the Now Playing screen is a Play/Pause button and a volume slider. If a station streams in more than one bit rate, you'll find a Change Bit Rate icon within the gray rectangle. Tap it and a screen appears that displays all available bit rates along with their reliability denoted in percentages—Windows – 25% Reliability, for example. Tap one of these options to change bit rates.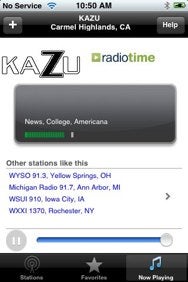 If a station has a Web site and you tap its call letters on the Now Playing screen, its homepage opens within the WunderRadio application. You can navigate the homepage by dragging your finger around to reposition the page, but the pinch and stretch gestures don't work, so you can't expand or contract the page nor can you view it in landscape orientation. Tapping links takes you to their destination, but again, you're stuck with a very limited view of the page. This isn't as capricious a design decision as it sounds. WunderRadio can't run in the background so if Safari were to launch when you tapped a station's call letters, playback would stop. If ever there was a need for an exception to Apple's "no background apps" decree, this is it. If you plan to return to a particular station routinely, tap the Plus icon in the upper-right corner of the Now Playing screen to add it as a favorite.
WunderRadio is an impressive application at a very impressive price, but it has its unstable moments. On occasion, playback would stop and I'd see a low memory error. The only way to get my favorite NPR station to play again was to quit the application and restart. Similarly, there were times when the Stations list refused to populate until I restarted the application.
But despite these occasional glitches, I found WunderRadio to be a wonder indeed. If you'd like access to countless radio startions from across the globe in a portable and inexpensive package, drop the measly $6 necessary to obtain a copy of WunderRadio.
WunderRadio is compatible with any iPhone or iPod touch running the iPhone 2.x software update.
[Senior editor Christopher Breen is the author of the upcoming iPhone Pocket Guide, third edition (2008, Peachpit Press).]