Internet radio is an excellent way to discover new music, but, as the name implies, you need an Internet connection. The folks over at Slacker have an Internet radio service that you can enjoy without a constant Internet connection. With the G2 Personal Radio Player, you can load the device with songs from Slacker radio stations you pick, and listen to the songs wherever you want, without an Internet tether.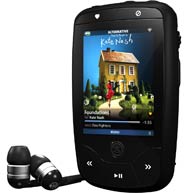 In this week's Macworld Video, I'll provide a short demonstration of the G2 Personal Radio Player. I'll talk about how it works, and whether or not it's a viable replacement for your iPod touch ( ) or iPhone ( ).
But first, a disclaimer. Slacker does not yet have Mac software for the G2. (Slacker also says it's working on an iPhone application.) Without software, the G2 is a simple device for playback of the Slacker Internet radio service that syncs via Wi-Fi. You can't connect to a Mac to load your own MP3s.
Download Macworld Video #73
Format: MPEG-4/H.264
Resolution: 320 x 240 (iPhone & iPod compatible)
Size: 13.4MB
Length: 2 minutes, 5 seconds
Show notes
Slacker is an Internet radio service. You need an account before you can use the G2. You can get a free account that plays ads and has some account limitations. Or you can sign up for a Premium account that's ad-free and has more features, but will cost you between $7.50 and $10 per month.
If you don't feel like carrying yet another portable device and you already have an iPod touch or an iPhone (or both), you can try an Internet radio app for the iPhone, such as Last.fm ( ), Pandora Radio ( ), AOL Radio ( ), or Tuner Internet Radio ( ).