Netgear on Monday announced the release of its ReadyNAS Pro Gigabit Desktop Storage system, with six drive bays. The new ReadyNAS Pro is available starting at $2,000.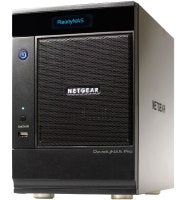 Designed for small to medium sized businesses with up to 200 users, the ReadyNAS Pro comes in 1.5, 3 and 6 terabyte configurations. It's Mac, Windows and Linux compatible, and supports RAID 0, 1, 5 and 6 configurations. Inside it can house up to six SATA II hard disk drives in lockable, hot-swappable bays.
The ReadyNAS Pro has dual redundant Gigabit Ethernet ports and three USB 2.0 ports that support the addition of external USB drives, printers and backup batteries. Netgear claims the device can read at over 108 megabytes per second and write at over 102 megabytes per second.
The ReadyNAS Pro has an LCD display that enables you to monitor the system for port failures or status readings. A Web-based graphical user interface and setup wizard lets you configure user account access, set up e-mail system alerts for the network administrator and perform other administrative functions.