Yoggie Security Systems has announced the Gatekeeper Pico and Gatekeeper Card Pro for Mac, dedicated hardware devices that feature security software. The Gatekeeper Pico and Gatekeeper Card Pro will ship in December for $149 and $199 respectively.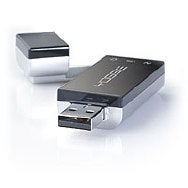 The Gatekeeper Pico is a USB "mini-computer" running Linux, with 12 built-in security functions. It boots up automatically with the Mac, and includes a low-level driver that "hijacks" all network connections. Internet traffic is thus routed through the device before it reaches the Mac.
The Gatekeeper Card Pro is designed for the MacBook Pro. It rests in the MacBook Pro's ExpressCard slot and also provides 12 security applications.
Security features in the Gatekeeper products include a firewall, Snort Intrusion detection and Prevention systems, Sourcefire VRT-certified Snort rules, Kapersky anti-virus, anti-spyware, anti-spam and anti-phishing, Surfcontrol Web content filtering, adaptive security policy, multi-layer security agent, Layer-8 security engine, and, in the ExpressCard version, a Virtual Private Network (VPN) client.
System requirements call for Mac OS X 10.5.4 or later; the Gatekeeper Card Pro also requires the ExpressCard slot on the MacBook Pro.