The Very Cool Software Company has announced the forthcoming release of its Dübreq iStylophone software for the iPhone and iPod touch. It's expected to debut at the App Store on December 1, 2008 for $5.95.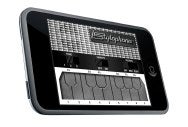 It's based on the original 1968 Stylophone, a pocket electronic musical instrument that has seen broad use over the decades by professional musicians from David Bowie to Erasure, Marilyn Manson to They Might Be Giants. It was originally developed as a children's toy, and came complete with stylus.
Its kitschy design and vintage sound has seen resurgent popularity in recent years; in 2007, a new version of the Stylophone was produced with volume controls and an MP3 feature.
The Very Cool Software Company has posted a MobileMe Web gallery of images of the new software in use.