Anyone who's held an iPhone near electronic equipment like car radios, computer speakers, audio receivers and more has likely been subjected to the noise of electronic interference from the iPhone. A new product from Quick Bridge Solutions promises to fix that. The QB-EM Shield costs $3.99.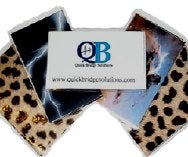 The QB-EM Shield blocks electromagnetic impulses coming from iPhones; the problem is particularly prevalent on first-generation iPhones and iPhone 3Gs that have reverted to EDGE networking instead of 3G.
Quick Bridge Solutions says the problem is with electronic devices that don't comply with proper FCC standards or have not provided proper EMI and RFI shielding. The QB-EM Shield blocks 80 to 90 percent of the interferences generated by the iPhone, according to the manufacturer.
The QB-EM shield is shaped like a business card; you place the shield at the back of your iPhone case or docking station near the bottom, so that the shield covers the black stripe at the lower section at the back of the phone. Quick Bridge Solutions makes the QB-EM Shield in three designs: Leopard Skin, Space Cloud and Lightning Bolt.