Over the past couple months, there's been a fair amount of controversy over Apple's decisions to reject particular iPhone applications from the App Store. But beyond the few snubbed titles that have gotten a good deal of publicity, which Apps have actually been turned down (or removed post-acceptance)? A new Web site, the iPhone Application Graveyard, aims to be the go-to resource for "remembering the applications that Apple has killed."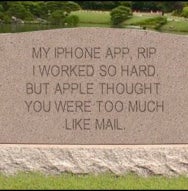 The site claims to list every application that Apple has rejected, although the site's maintainer told Macworld that it includes only those apps for which the developer has made the rejection public. As of today, that totals 11 applications, from NetShare, which allegedly violated Apple's agreements with AT&T, to Shaker, which was removed due to a copyright complaint from Tetris Company. (Based on comments Macworld has heard from developers, additional apps have been rejected. Some are eventually accepted after changes have been made; others are rejected outright.) For each app, the site lists the app name, developer, release and kill dates, reason for rejection, current status, information source, and a summary of the app's history.
Another Web site, Finger Gaming, provides a similar page listing games that have been removed, post-approval, for one reason or another—usually an allegation of trademark or copyright infringement. Finger Gaming's Archive for the 'Removed Game' Category currently lists a number of games, including Shaker, Rockfall, Tris, and Flying Rider, that have been removed because of similarities to games such as Tetris, Line Rider, Boulder Dash, and Arkanoid.
(Tombstone-graphic thanks: www.jjchandler.com/tombstone/.)