Chances are you've seen Bob Staake's work at some point. Besides contributing to more than 40 books as author, artist, or both, Staake's also done illustrations for clients as diverse as The New York Times and Anheuser Busch. His work has graced everything from advertisements and games to Hallmark greeting cards and the cover of The New Yorker.
And he's done it all with a piece of software that's almost 15 years old.
In September 1994, when Photoshop 3.0 was released, the world was a very different place. The World Series had been cancelled due to a labor dispute; George W. Bush had just been elected Governor of Texas; and Netscape Navigator, one of the first graphical web browsers, wasn't due to be released for another three months. And the idea of digital art was still in its infancy.
"In 1995, I was interviewing other illustrators for a book called The Complete Book of Humorous Art," says Staake. "I was amazed at how many of them claimed they were working 'digitally'—but in actuality most had only dabbled in computers." Not long after, Staake was looking for something that would let him scan in his pen and ink drawings and color them in on the computer. An art director friend who owned a Power Macintosh 7100, one of the first PowerPC-based Macs, told him that Adobe Photoshop was just what he was looking for. "Sounded good to me," says Staake, who ended up purchasing a 7100 as well, "so I have been working in Adobe Photoshop 3.0 ever since."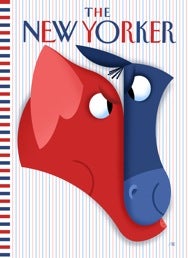 The idea of using such outdated software is foreign to many technophiles who, in this era of instant gratification when songs, movies, and software udpates are never more than a click away, rarely seem to use programs that are older than a couple of months. So when Staake posted a video of his process for creating the cover of The New Yorker's recent politics issue, the news that he was using software over a decade old spread faster than celebrity gossip.
"It was stunning and hilarious to see how those people reacted to it," says Staake. "There was absolutely no regard, discussion or appreciation for the art that was being created or how the mind must be wired to even create imagery in such a weird way."
To Staake, the comments—some of which he calls "nasty"—illustrate a fundamental divide between those who just talk about the process of creating and those who actually do the creating. "Other artists and illustrators see me creating my art in Photoshop 3.0 with all these arcs of color that somehow evolve into characters and scenes and they're sort of stupefied. They claim their minds just don't think like that, but [they] are nonetheless impressed with what I create."
Of course, Staake has upgraded some of his equipment over the years, despite his use of Photoshop 3.0 and older versions of Adobe PageMill and FileMaker Pro. "Believe me, I am anything but a technophobe," he said. "I rarely ever upgrade because I'm usually inundated with work and simply don't have the time to learn new versions. For me, it is simply a matter of pragmatism." The 7100 has now been replaced as his workhorse by a PowerMac G5 running Mac OS X 10.4.11, necessitating that he run his beloved Photoshop 3.0 in Mac OS 9.2.1 via the Classic emulation environment (and not, as several blog posts about his New Yorker cover erroneously stated, in System 7).
It's not as if Staake hasn't tried newer versions of Photoshop over the years; he has even reluctantly installed Adobe Creative Suite 2 on his G5, as preparation for the inevitable moment when he's forced to make the transition to an Intel processor. But the way he talks about CS2 makes it clear that it's more of an obstacle than an enabler when it comes to getting down to creative work. "When I open up Photoshop 3.0, it's there and ready to go in four seconds flat, and when I have opened CS2 my fingernails will have grown a quarter inch before the app appears," Staake says.
While Staake's software has stayed the same over the years, that doesn't mean that his craft hasn't evolved: "In 1995 I was drawing my line art in pen, scanning the image, then coloring it in Photoshop 3.0. but around 1998 I stumbled on a way to change a brush in Photoshop from 'normal' to 'dissolve'—and when I did, I was able to create this 'spatter' effect that looked as if it has been created by thumbing the inky bristles of a toothbrush."
For Staake, that was the moment that things changed. That technique, which Staake says is the same used by poster artists of the mid 20th-century, was what got him into using the computer to create his art full time. "I was hooked," he says. "All my work since then has been created by pulling, clicking and tugging on a mouse."
Staake's work nowadays, showcased in a number of videos on his site, is somewhat unusual: It involves creating complex illustrations out of ingenious combinations of basic shapes such as rectangles and ellipses, which are subsequently refined into the final illustrations. "I know it looks completely bizarre, but I can assure you I'm not possessed by the devil because friends have checked my bald spot and haven't found '666' burned into my scalp," he quips.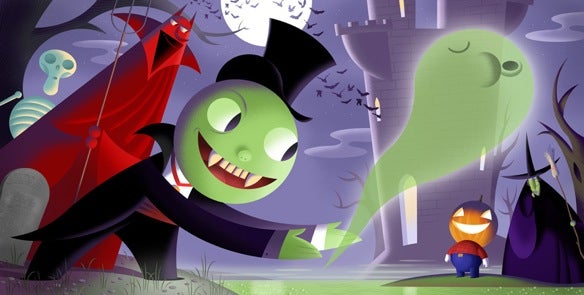 Staake says that he never feels held back by working with an older piece of software, even in the face of advice from trusted quarters: "My son works at Apple and he is constantly telling me that if I worked in CS, I could do this with the type tool and that with the lasso. Who cares? When I have to create a certain effect in Photoshop 3.0, I figure out some weird way of doing it." To Staake, there's no such thing as a limitation in his tools; that's just part of the creative process. "I write most of my children's books in rhyme because it forces me to come at stories from odd points of view," he says. "The same is true with working with creating digital art."
After all, as Staake points out, hardware and software is just a tool to help people create. "If the art is created in Photoshop 3.0, Illustrator 485, CS3, crayon on bond paper or paint on canvas—[artists] don't really care—the quality of the art is what matters to them," he says.