FileMaker on Tuesday released a major update for Bento, adding integration with Apple Mail and improving data exchange between the personal database application and the Excel and Numbers spreadsheet programs.
Since releasing Bento earlier this year, FileMaker has touted the program as a database program aimed at individual users who don't need or are overwhelmed by the extensive features in its flagship FileMaker Pro application. FileMaker executives report that Bento has been downloaded nearly 350,000 times since its initial release, with 75 percent of Bento's customers identified as home-based users.
Bento appeals to those customers by being an easy-to-use database app with features that let the average user organize data without having to master complex relational database concepts. Still, FileMaker received a lot of feedback from customers on ways to improve Bento, with those suggestion shaping the new features and enhancements in version 2.
Chief among the changes in Bento 2 is integration with OS X's built-in Mail client. Mail integration builds on the ties Bento already has with OS X's iCal and Address Book applications. Users can add Mail messages to a contacts record, allowing them to track important messages from within the database program.
To take advantage of the new Mail integration, users add a Message List field where they can drag and drop e-mails, viewing them in Bento courtesy of OS X's Quick Look feature. Click to reply to a message in Bento, and it will open the original e-mail in the Mail client.
At this point, Bento doesn't offer a way to automatically add e-mail messages. Bento product manager Beth Nagengast said Mail integration was meant to give users access to only the messages they needed in Bento, so adding e-mail manually was the best way to implement the feature.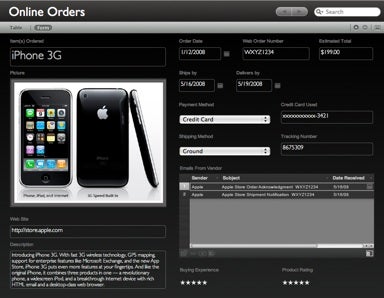 Other major additions introduce in the Bento update include easier spreadsheet exchange. Bento 2 allows users to export spreadsheet data from either Microsoft's Excel or Apple's Numbers and view that data within Bento. What's more, Bento users can also export Bento libraries back to Numbers and Excel.
AppleWorks users will be happy to hear that Bento 2 also includes support for AppleWorks data through importing tab-delimited files. Additionally, users can export Bento data as tab-separated files for use in AppleWorks or as comma-separated files for use in other programs.
Even though Bento is essentially a database application, FileMaker noticed that many of the users were coming from a spreadsheet background. As a result, many users found that entering data was not as convenient as what they were used to. To make things easier for users migrating to Bento, FileMaker added a spreadsheet-style data entry table. In addition to the autofill available in spreadsheets, Bento also allows users to use a split screen with the spreadsheet and form views accessible at the same time.
As in the original Bento, changes made to Address Book entries or iCal events from within the database program are reflected in those apps. For MobileMe subscribers, that means any changes made in Bento will be pushed to an iPhone and any other devices they sync with their Mac.
Bento 2 drops the application's Customize Mode to allow instant customization of records. Click on a field name, and you can move or resize it, change its font size, or add shading.
Bento 2 comes with 10 new templates on top of the 20 that appeared in the original version. Users can now import and export templates as well, with FileMaker planning to create a Bento Template Exchange at its user forums for template sharing.
Available now, Bento 2 costs $49; a family pack of five licenses sells for $99. Like its predecessor, the new version requires Leopard—OS X 10.5.4, specifically—running on either a PowerPC-, G5-, or 867MHz or faster G4-based Mac.