At today's special event in Cupertino to introduce new laptop systems, Apple Chief Operating Officer Tim Cook offered a look at the current state of the Mac.
Cook said that Apple's most recently reported quarter showed sales of 2.5 million Mac systems — a new company record.
"Several quarters in a row, we've been growing at two to three times the market growth," Cook said. Apple attributes the strong growth to a variety of factors, including having better computers and better software, great marketing and Boot Camp's ability to let Macs run Windows software.
Cook also cited Microsoft's poor deployment of Vista. "I think it's fair to say that Vista hasn't lived up to everything that Microsoft hoped it would," said Cook. "And consequently, it's opened doors for a lot of people to consider switching to the Mac. And this has given us an opportunity and Apple has been the beneficiary of this."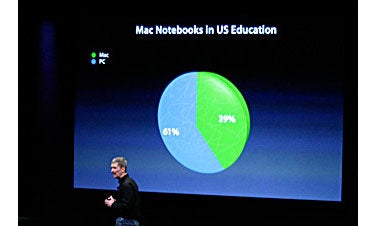 Cook said that Apple's other strategic benefit for continued Mac market growth is the success of Apple's retail store effort. In seven years, Apple has opened 247 stores in eight countries. About 400,000 customers come to the stores each day, and, remarkably, the number of Macs the retail stores sell to first-time Mac owners has remained about the same throughout — 50 percent of those customers buying new systems are new to the platform.
While the 2.5 million unit mark is impressive, Cook said that it's not a new trend. "If you look at the history, what you would see that the Mac has outgrown the market for 14 of the last 15 quarters. That's almost four years. That's phenomenal," said Cook.
Apple share of the market now represents 17.6 percent of unit sales in U.S. retail, according to Cook. "And if you look at revenue share, because we focus on fully-featured systems and we don't compromise on quality, our revenue share is 31.3 percent. That means one out of every three dollars spent on computers in U.S. retail is spent on the Macintosh. What a difference a few years makes," said Cook.
Apple has also seen resurgent popularity in higher education, said Cook. Cook indicated that Apple has surpassed Dell to become the top-selling provider of notebooks in education with a 39 percent share of the market.